Radar Movers: Buffalo Wild Wings Sinks 2%, Facebook Nearly Recaptures IPO Price
Shares of Take-Two Interactive Software (NASDAQ:TTWO) jumped 1.5 percent in late afternoon hours. The video-game company reported a quarterly loss of 54 cents per share, better than the 57-cent loss expected by Wall Street. "With Grand Theft Auto V launching on September 17th, followed by the releases of NBA 2K14 and WWE® 2K14, fiscal 2014 is poised to be one of our best years ever. Looking ahead, we are well-positioned to capitalize on the opportunities presented by the upcoming launches of the next-generation consoles," explains Strauss Zelnick, chief executive officer.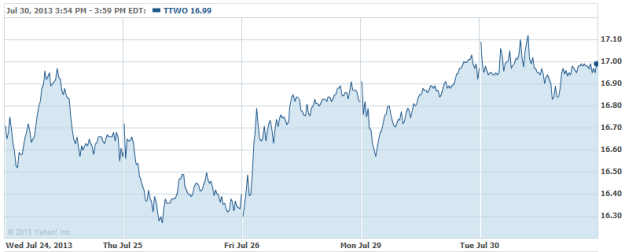 Amgen (NASDAQ:AMGN) shares declined more than 1 percent in late afternoon trading, despite reporting better-than-expected earnings for the second quarter. Adjusted earnings came in at $1.89 per share, compared to estimates of $1.74 per share. Total revenue increased 5 percent to $4.68 billion.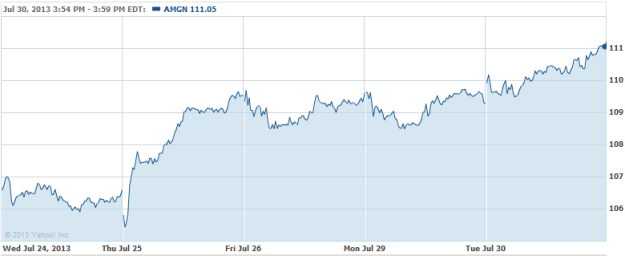 Shares of Buffalo Wild Wings (NASDAQ:BWLD) sank 2.2 percent in late afternoon hours. However, the company reported a 41.4 percent increase in net income for the second quarter. Meanwhile, same-store sales increased 3.8 percent at company-owned restaurants.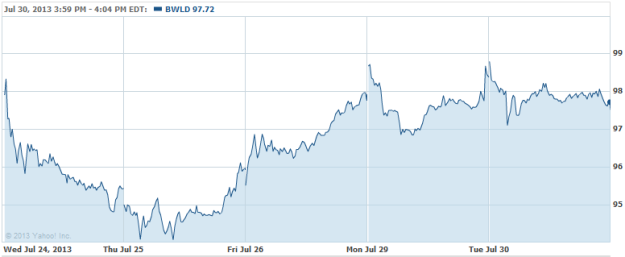 Facebook (NASDAQ:FB) shares gained 6.2 percent on Tuesday and continued to attract attention in late afternoon trading. The company managed to hit as high as $37.96, just 4 cents below its initial public offering price. Facebook has launched its own game publishing initiative, giving the competitors of Zynga (NASDAQ:ZNGA) a platform to develop and publish games accessible to smaller studios. The support from Facebook includes giving free advertising to select developers of high-quality games and other promotional support, so that more games can reach more users on the giant social network.

Don't Miss: History and Warren Buffett Say Cash Is a Terrible Investment
Follow Eric on Twitter @Mr_Eric_WSCS