Radar Movers: Buffett Takes Huge Stake in Exxon Mobil, Cisco Plunges 11%
Shares of Applied Materials (NASDAQ:AMAT) edged lower in late afternoon hours. Applied Materials reported a quarterly profit of $183 million (15 cents per share), compared to a loss of $515 million a year earlier. However, Applied Materials provided a cautious outlook, estimating earnings of 20 cents to 24 cents per share. Wall Street expected earnings of 23 cents per share for the current quarter. "This has been a transformative year for Applied Materials as we shaped a more competitive company, reduced overhead expenses, stepped up investment in product development and built momentum for profitable growth," said Gary Dickerson, president and chief executive officer.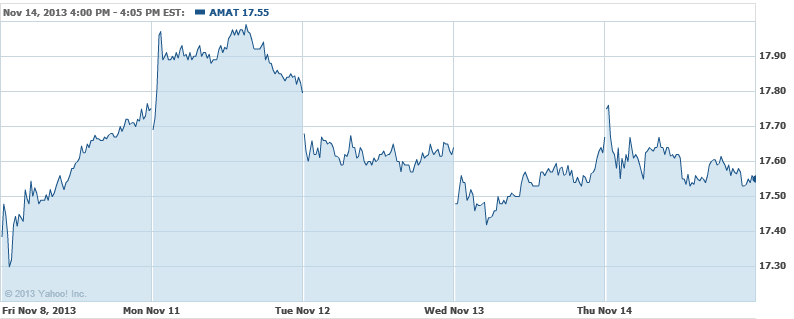 Exxon Mobil (NYSE:XOM) shares gained nearly 1 percent in late afternoon trading. Warren Buffett, one of the world's most watched investors, disclosed a new stake of about $3.7 billion in Exxon Mobil. According to a Securities and Exchange Commission filing, Berkshire Hathaway (NYSE:BRKA) purchased nearly 40.1 million shares of Exxon Mobil during the third quarter.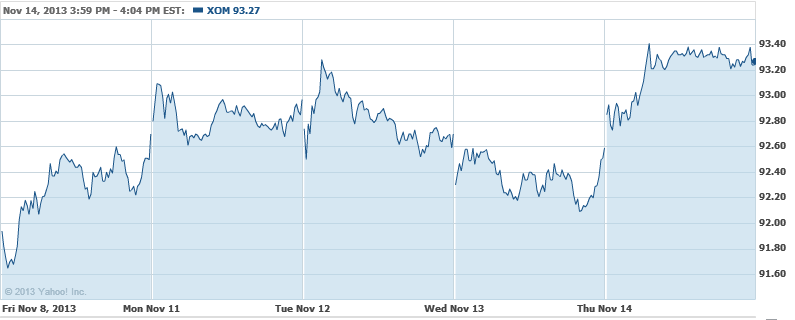 Shares of Cisco Systems (NASDAQ:CSCO) plunged 11 percent on Thursday. Cisco Systems announced better-than-expected quarterly earnings late Wednesday, but revenue of $12.09 billion disappointed Wall Street. Analysts expected revenue of $12.34 billion. On the positive, Cisco Systems also said it would increase its stock repurchase program by $15 billion. "This quarter we delivered record non-GAAP profitability and continued our steady stream of innovation and market leadership," stated Cisco Systems Chairman and CEO John Chambers. "While our revenue growth was below our expectation, our financials are strong, our strategy is strong and our innovation engine is executing extremely well." Cisco's guidance was also weaker than expected.

Nordstrom (NYSE:JWN) shares declined 1.6 percent in late afternoon trading, despite reporting better-than-expected quarterly earnings. Nordstrom's net earnings came in at $137 million (69 cents per share), down from $146 million (71 cents) a year earlier. Analysts expected earnings of 67 cents per share.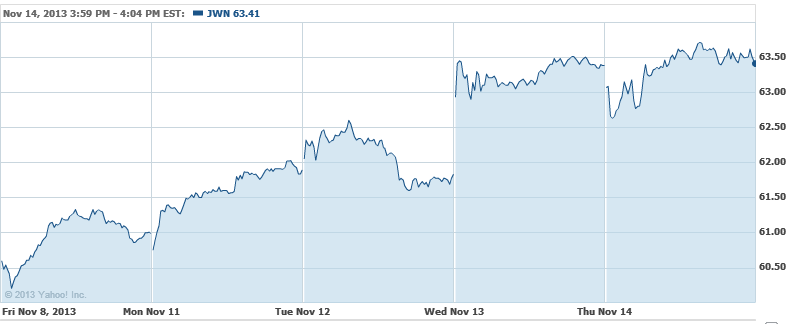 Don't Miss: Billionaires Love These 10 Stocks
Follow Eric on Twitter @Mr_Eric_WSCS