Radar Movers: David Einhorn Still Likes Apple, Dell and Nokia Climb Higher
Shares of Dell (NASDAQ:DELL) jumped nearly 1 percent on Friday. Carl Icahn and Southeastern Asset Management are teaming up to offer an alternative bid for Dell, the latest in a drawn-out bidding war for the company's ownership. Icahn, in conjunction with Southeastern, is proposing a bid that would pay shareholders about $12 per share either in cash or in additional shares in the company, and is competing against Michael Dell's bid with Silverlake that pays out $13.65 per share. It's also a significant drop from Icahn's original bid of $15 per share. Hewlett-Packard (NYSE:HPQ) shares also climbed higher.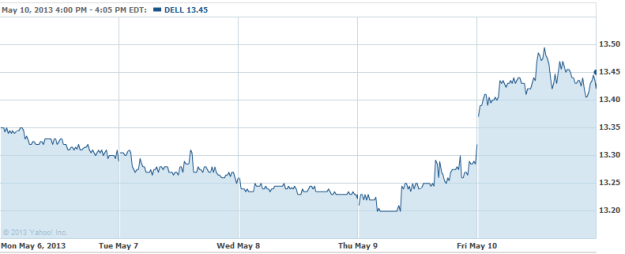 Nokia (NYSE:NOK) shares jumped 3.1 percent on Friday and continued to increase in late afternoon hours. The Finland-based phone manufacturer has teamed up with Verizon (NYSE:VZ) to deliver a high-end Lumia at a low-end price when picking up a two-year wireless contract. The new Lumia 928 will sport a 4.5 inch screen, 8.7-megapixel camera, and a lightweight feel. It will cost consumers $99 after receiving a $50 rebate and signing up for two years of service on Verizon networks.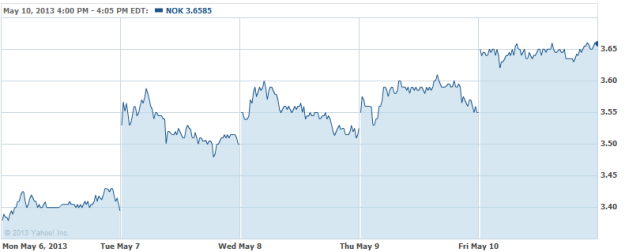 Shares of General Motors (NYSE:GM) dipped in late afternoon trading, despite seeing strong demand. With citizens picking up the cars as fast as it can produce them, GM is looking at another expansion in Indonesia, less than a week after opening a new plant and introduction of a new model. Nearly 10,000 orders have been place for the new Chevrolet Spin, almost twice the number of cars it sold to Indonesians in all of 2012.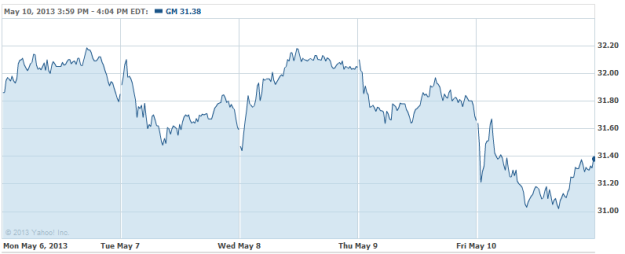 Apple (NASDAQ:AAPL) shares continue to maintain a price near $450, well above the 52-week low of $385. Apple bull David Einhorn of Greenlight Capital stood behind his optimistic position in his latest quarterly letter to investors. "Our thesis is that [Apple] has a terrific operating platform, engendering a loyal, sticky and growing customer base that will make repeated purchases," he wrote. "Unfortunately, there have been a series of disappointments," he added, given the 17 percent decline that the company experienced in the first quarter.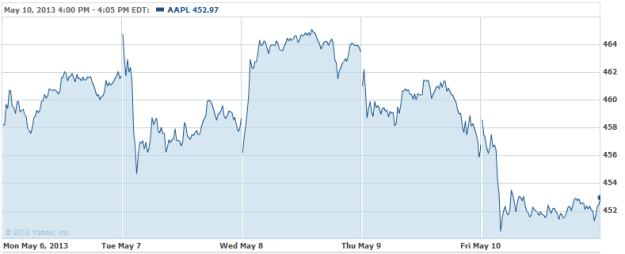 Don't Miss: College Debt Bubble Teaches Regrets