Radar Movers: Facebook Phone Home, Apple iPad 5 Hints
Hewlett-Packard (NYSE:HPQ) shares edged slightly lower in late afternoon trading. The computer company announced that Ray Lane will step down from his position as HP's chairman. Director Ralph Whitworth will take over on an interim basis. Two other directors, John Hammergren and G. Kennedy Thompson, will also step down later this year.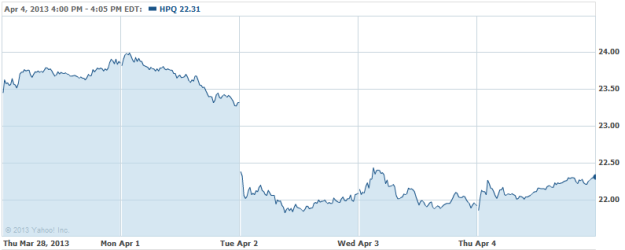 Shares of Facebook (NASDAQ:FB) jumped 3 percent on Thursday and continue to climb higher in late afternoon hours. Facebook Home, the social network's latest attempt to transform its application into a true mobile platform, focuses on inspiring deeper user engagement. The new family of apps debuted Thursday at an event at the company's headquarters in Menlo Park, California. The feature will be on limited phones with HTC and AT&T (NYSE:T) starting April 12.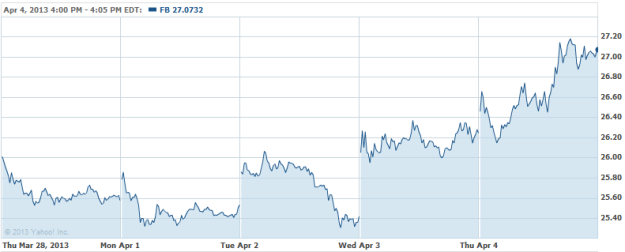 F5 Networks (NASDAQ:FFIV) shares plunged 15 percent in late afternoon trading. The network appliances company pre-announced dismal quarterly results. Due to weakness in North American and Europe, expected revenue is $350.2 million, below guidance of $370 million to $380 million. Earnings per share came in at $1.06 to $1.07, missing estimates of $1.21 to $1.24 per share.

Shares of Apple (NASDAQ:AAPL) dropped 1 percent on Thursday and continue to edge slightly lower in late afternoon hours, despite chatter about the next iPad. Three prominent retail stores in the U.S. – Wal-Mart (NYSE:WMT), Best Buy (NYSE:BBY), and MacMall — have put a 30-percent discount on the third-generation iPad, normally a move reserved for moving inventory in anticipation of a new product. On Best Buy's website, the 3rd generation iPad with 64 gigabytes of storage is running for $545.99, down from the usual asking price of $779.99.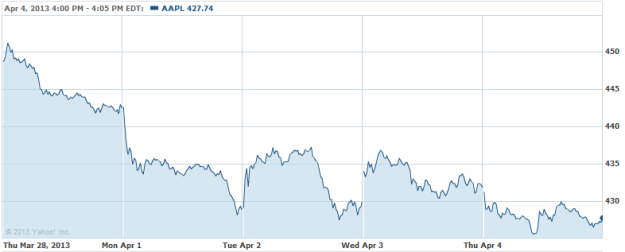 Don't Miss: Will Casual-Dining Still Thrive in America?