Radar Movers: George Soros Reveals J.C. Penney Position, Starbucks Sinks After Guidance
Shares of J.C. Penney (NYSE:JCP) jumped more than 6 percent in late afternoon hours. A new SEC filing from Soros Fund Management shows the firm has a 7.9 percent stake in the struggling retailer, making it one of the largest holders of J.C. Penney.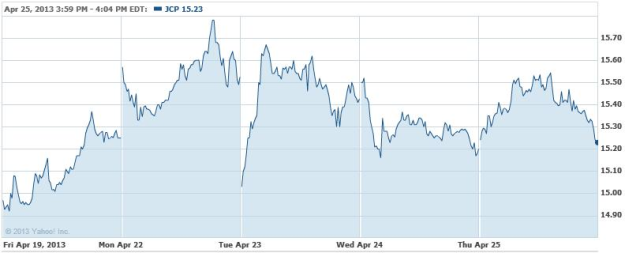 Amazon.com (NASDAQ:AMZN) shares increased 1.9 percent in late afternoon trading. The world's largest online retailer reported better-than-expected earnings for the first quarter.  Net income came in at $82 million (18 cents per share), compared to $130 million (28 cents per share) a year earlier. Revenue jumped 22 percent to $16.07 million. Analysts expected earnings of 8 cents per share on revenue of $16.15 billion.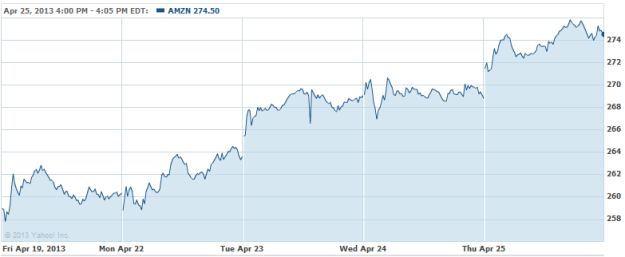 Shares of Starbucks (NASDAQ:SBUX) dropped 2.5 percent after announcing financial results for the fiscal second quarter. The coffee giant reported a record revenue of $3.6 billion, but its outlook disappointed Wall Street. Starbucks expects third-quarter earnings to come in between 50 cents and 53 cents, lower than expectations of 54 cents. "Starbucks record operating performance in Q2 continues to demonstrate the underlying strength and resilience of our expanding global business, and the increasing relevance of the Starbucks brand to consumers all around the world," said Howard Schultz, chairman, president, and chief executive officer. Dunkin' Brands (NASDAQ:DNKN) shares edged slightly higher.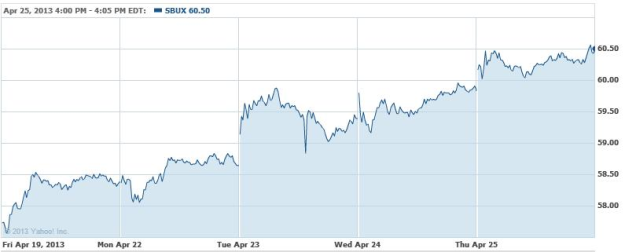 Apple (NASDAQ:AAPL) shares edged slightly higher on Thursday and continue to attract attention in late afternoon hours. The U.S. Patent and Trademark Office published an Apple patent Thursday that hints at some future plans for Apple Maps; the iOS-based maps could be making their way to the web. The patent describes a feature for printing off paper versions of maps and directions that are organized better than current map printouts. The patent suggests that other printouts "are often cluttered or poorly laid out, and can be confusing."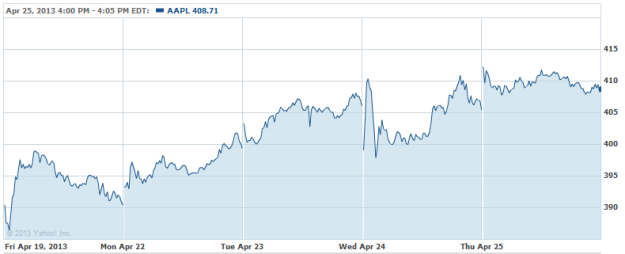 Don't Miss: Warren Buffett Takes Coca-Cola CEO to History 101