Radar Movers: Green Mountain Jumps 3%, Amazon Expanding in Grocery Stores
Shares of Green Mountain Coffee Roasters (NASDAQ:GMCR) jumped 3 percent in late afternoon hours. Green Mountain Coffee Roasters reported quarterly earnings of 83 cents per share, up from only 58 cents per share a year earlier. Net sales also grew to $1.05 billion. "We had a strong end to an excellent year, driven by continued consumer passion for the Keurig brewing system," said Brian P. Kelley, Green Mountain Coffee Roaster's President and CEO. "Our 16 percent annual revenue growth and 22 percent revenue growth for the fourth quarter were driven by robust brewer sales and continued portion pack sales momentum."

Williams-Sonoma (NYSE:WSM) shares gained more than 4 percent in late afternoon trading. Williams-Sonoma announced quarterly earnings of 58 cents per share, up from 49 cents per share a year earlier. The retailer also hiked its full-year adjusted earnings outlook to $2.76 to $2.83 per share, compared to a prior estimate of $2.69 to $2.79 per share. "Our strong third quarter and our performance year-to-date illustrate the power of our business model and the relevancy of our brands," said Laura Alber, president and chief executive officer of Williams-Sonoma. "We delivered an 11 percent increase in revenue and EPS growth in excess of 18 percent."

Shares of L Brands (NYSE:LTD) edged slightly lower in late afternoon hours. L Brands reported quarterly earnings of 31 cents per share on revenue of $2.17 billion, mostly inline with estimates. Looking ahead, L Brands stated that it expects fourth quarter earnings of $1.67 to $1.82 per share. For 2013, the company expects earnings per share of $3.07 to $3.22.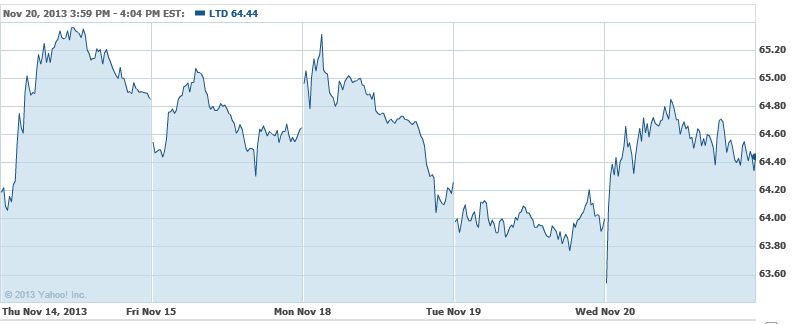 Amazon.com (NASDAQ:AMZN) shares edged slightly higher in late afternoon trading. While it already offers its own brand of batteries, keyboards and bedding, Amazon is looking to expand its private-label products to the grocery store shelves. AllThingsD reports that recent job listings indicate that Amazon is making the push into supermarkets. The possibilities range from groceries to health and personal care to baby products; the AmazonFresh grocery delivery operation is also a part of the division.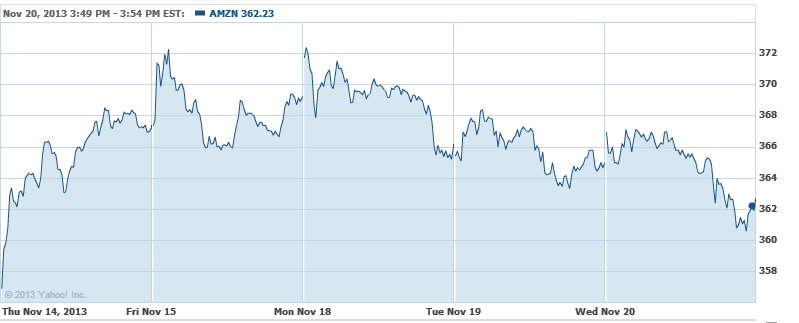 Don't Miss: Are Baby Boomers Becoming the Family Bank?
Follow Eric on Twitter @Mr_Eric_WSCS