Radar Movers: Intel and Yahoo Decline After Earnings, Cheap iPhone in September?
Shares of Intel (NASDAQ:INTC) edged slightly lower in late afternoon hours. The world's largest semiconductor maker posted financial results for the first quarter. Net income came in at $2.05 billion (40 cents per share), down from $2.74 billion (53 cents per share) a year earlier. The company believes current-quarter revenue will meet expectations. "Amidst market softness, Intel performed well in the first quarter and I'm excited about what lies ahead for the company," said Paul Otellini, president and chief executive officer.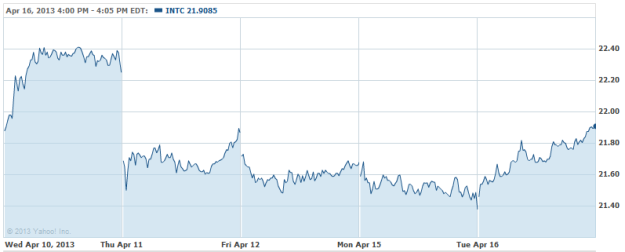 Yahoo! (NASDAQ:YHOO) shares dropped almost 4 percent in late afternoon trading. The Internet company reported earnings of 38 cents per share for the first quarter, beating Wall Street's estimate of 24 cents per share. However, revenue of $1.07 billion fell short of estimates calling for $1.10 billion. "I'm pleased with Yahoo!'s performance in the first quarter. We saw continued stability in our business, strengthened our team, and started the year with fast execution against our products and partnerships," said Yahoo CEO Marissa Mayer. Google (NASDAQ:GOOG) shares also edged slightly lower in late afternoon trading.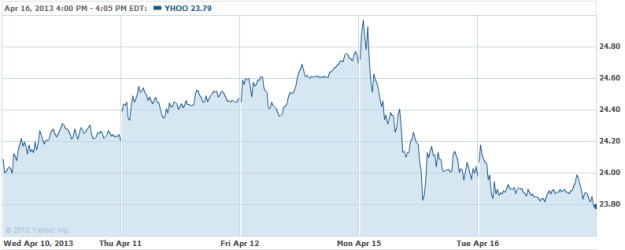 Shares of Microsoft (NASDAQ:MSFT) gained almost 1 percent on Tuesday and continue to climb higher. The software giant received an upgrade to Overweight from Equal Weight by Morgan Stanley. Analyst Keith Weiss explains, "Sentiment fell sharply on a disappointing Windows 8 launch and weak CY1Q PC data; however, we see several potential catalysts to improve investors' perspectives on MSFT in CY2H13." Weiss has a price target of $36 on Microsoft shares.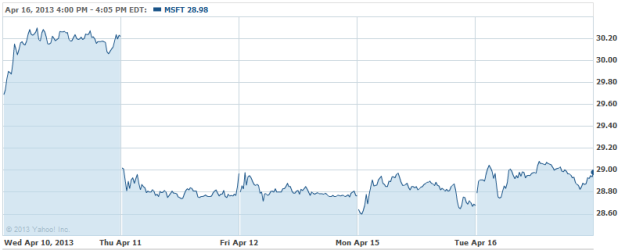 Apple (NASDAQ:AAPL) shares increased 1.5 percent on Tuesday and continue to attract attention in late afternoon hours. In a note Wall St. Cheat Sheet received from Piper Jaffray analyst Gene Munster, Apple may not perform as well as previously expected, but it could still be valuable. A large portion of Munster's note was on the effects that a cheaper iPhone would have on Apple. His expectation is that the company will release a low-end iPhone in September with an average selling price of about $300.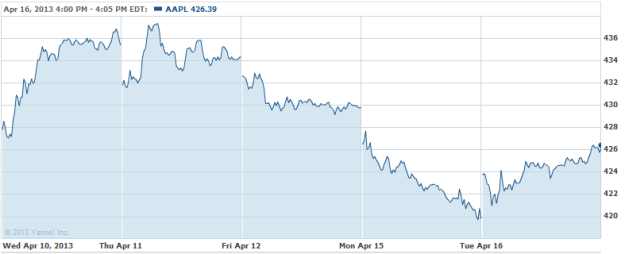 Don't Miss: Time to Get Bearish on the Tech Sector?