Radar Movers: Microsoft and Chipotle Slump, BlackBerry Sales Not That Bad
Shares of Microsoft (NASDAQ:MSFT) dropped more than 4 percent on Thursday and continue to attract attention in late afternoon hours. According to IDC, global PC shipments declined 13.9 percent year-on-year to 76.3 million units in the first quarter of 2013, nearly doubling the firms predicted decline. The deep slide is the worst recorded since the firm began tracking shipments in 1994. Microsoft also received a downgrade from Goldman Sachs. Hewlett-Packard (NYSE:HPQ) shares plunged 6.4 percent on Thursday.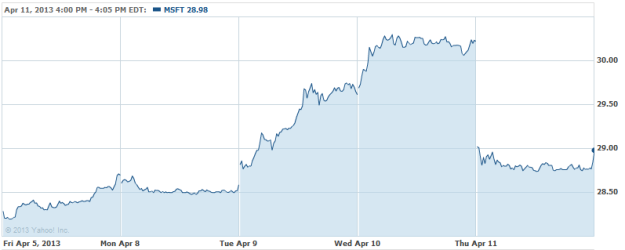 Chipotle Mexican Grill (NYSE:CMG) shares managed to edge slightly higher in late afternoon trading, after falling 3.5 percent. Jeffrey Gundlach, bond guru and chief investment officer at DoubleLine Capital, called Chipotle a "good short" and that "gourmet burrito is an oxymoron."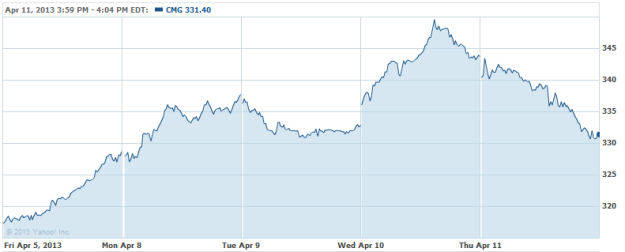 Shares of Apple (NASDAQ:AAPL) edged slightly higher in late afternoon hours, after dipping on Thursday. According to KGI Securities analyst Ming-chi Kuo, a number of Apple products that market watchers are expecting in the next few months might be a little delayed, and sales could fall short as a result. Kuo has a proven track record of predicting what products Apple is going to launch, when, and has even done well at figuring out how the supply of those products will be. Among the items Kuo talked about in a research note to AppleInsider were the iPhone 5S, a new iPad Mini, and a low-cost iPhone.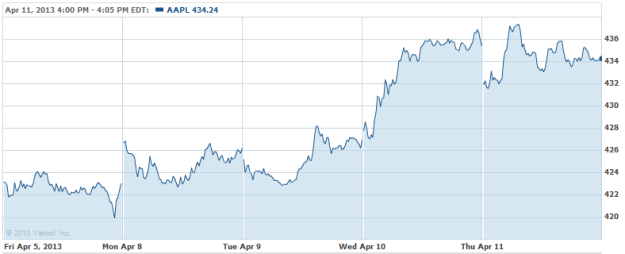 BlackBerry (NASDAQ:BBRY) shares plunged nearly 8 percent on Thursday, but have stabilized in late afternoon trading. Analysts at Detwiler Fenton & Co. believe returns on the new Z10 are increasing and even exceeding sales at some retailers. However, BlackBerry replies that Z10 returns are in-line with other premium smartphones and better in some cases, according to StreetInsider.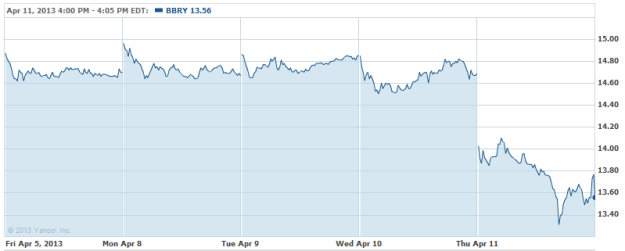 Don't Miss: Bank of America Dodges "Worst Company in America" Title