Radar Movers: Ron Johnson Exits J.C. Penney, Alcoa Reports Mixed Results
Shares of J.C. Penney (NYSE:JCP) briefly surged more than 11 percent in late afternoon hours, before erasing all of the gains. According to CNBC and sources familiar with the situation, Ron Johnson is out as the retailer's chief executive officer. There have been many problems with Johnson's strategy to attract customers, and the company is currently involved in a legal battle for the right to sell Martha Stewart-branded merchandise. According to a press release, Johnson is "stepping down," as opposed to being fired.
Apple (NASDAQ:AAPL) shares gained nearly 1 percent on Monday and continue to edge higher in late afternoon trading. Apple customers responded to a survey regarding their purchasing intentions in such a way that Raymond James's Tavis McCourt says demonstrates higher loyalty towards the company than even Google's (NASDAQ:GOOG) more popular Android operating system has been able to muster. The survey, conducted online from March 14-26, had 250 people taking part, answering a series of questions that McCourt composed. From their responses, McCourt concluded that users of Apple's iPhone are willing to upgrade more frequently than users of other platforms, and are more willing to stick with Apple products than customers of other platforms.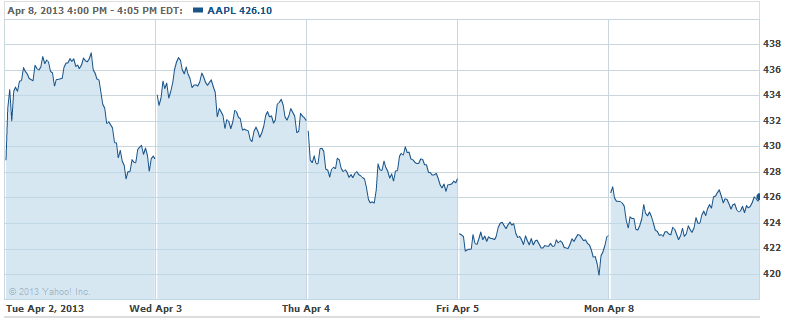 Shares of Alcoa (NYSE:AA) dropped 1.4 percent in late afternoon hours. The world's third-largest producer of aluminum reported better-than-expected quarterly profits, but fell short on revenue estimates. "This was a strong quarter led by record profitability in our downstream business, improved results in our midstream business, and remarkable upstream performance in the face of weak metal prices," commented CEO and Chairman Klaus Kleinfeld.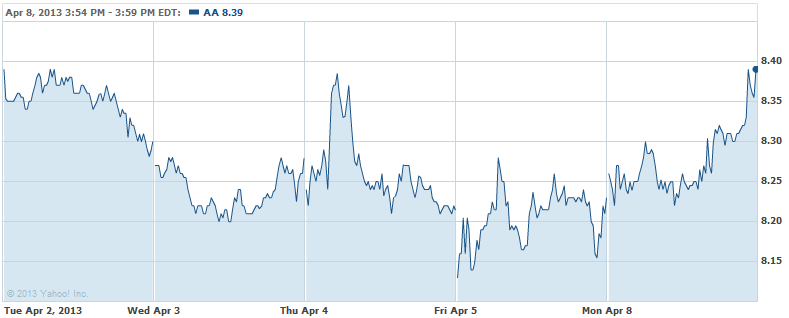 Morgan Stanley (NYSE:MS) shares climbed higher despite receiving an earnings cut from Sandler O'Neill. The firm reduced Morgan Stanley's first-quarter operating earnings per share estimate from 64 cents to 60 cents. The current consensus estimate on Wall street is for 57 cents.

Don't Miss: Are Investors Running to the Hills with Jim Rogers?