Rand Paul: I'll Block Yellen Unless My Bill Gets a Vote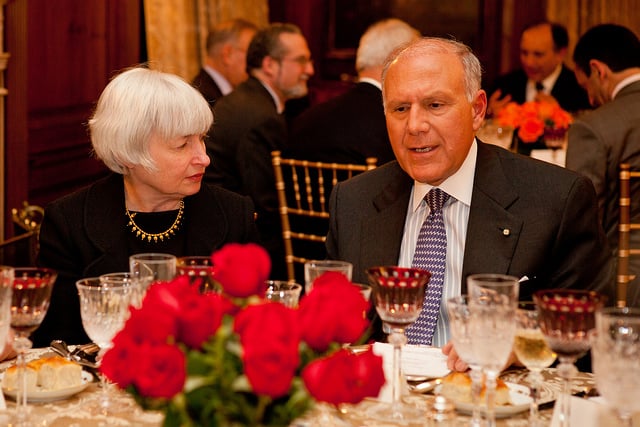 During the government shutdown, Americans became acquainted with some extreme viewpoints within the Republican Party, and they reacted strongly against them in polls. Senator Rand Paul of Kentucky picked up where some of his House colleagues left off Friday by threatening to block Janet Yellen's confirmation as Federal Reserve chair unless the Senate votes on Paul's own bill aimed to bring transparency to the Fed, according to CNBC. Paul considers the Fed a dangerous institution that "continues…to wreck our economy."
Procedurally, Paul could only stop a vote on Yellen's confirmation if he had the support of 40 other Senators in the body. CNBC reported that the junior senator from Kentucky released a statement saying he would tie voting on confirmation of the new Fed chair to voting on his own bill, the Federal Reserve Transparency Act, an effort that would remove current oversight on the Fed and institute a system of audit involving figures from Congress. The measure would effectively limit the U.S. central bank's independence.
That independence is something extreme members of the Tea Party consider a threat to the economy and the world at large. The Senator's father, Ron Paul, who is a former House Representative (R-Tex.) and was a candidate for president, was behind measures to increase transparency at the Fed as well. The Huffington Post reported that Rand Paul is helping his father's political organization, Campaign for Liberty, drum up support for increased Fed oversight.
In the recorded message, Rand Paul told Campaign for Liberty supporters that "the Fed continues to inflate our currency, wreck our economy, and operate in the shadows…." On discussing the importance of his Audit the Fed campaign, Senator Paul was even more blunt. "This will be the fight of our lives," he said in the message. While Americans are still grappling with the effects the shutdown had on the economy, it's clear more battles are ahead from the Tea Party wing.
Janet Yellen's support is widespread enough that even opponents in the Senate expect she will be confirmed as the first female chair of the Federal Reserve. The Democratic Caucus would only need five votes from Republican Senators to push through the vote without objection. Considering how dysfunctional Congress proved it can be, the idea of Fed oversight by either chamber would likely have little support from economists or investors. However, Democrats in the Senate will need five colleagues from across the aisle to avoid increased drama over Yellen.
Senator Paul was somewhat disingenuous when discussing his Audit the Fed measure, which he described as "bipartisan." Of the bill's 25 supporters, only one is a Democrat. Yellen is now meeting with members of the Senate, with confirmation hearings expected later on in the year,
Don't Miss: Tuition Rates and Aid Decline Show a College Affordability Gap.