Rare in Crisis-Era Litigation, BofA Cleared to Go to Trial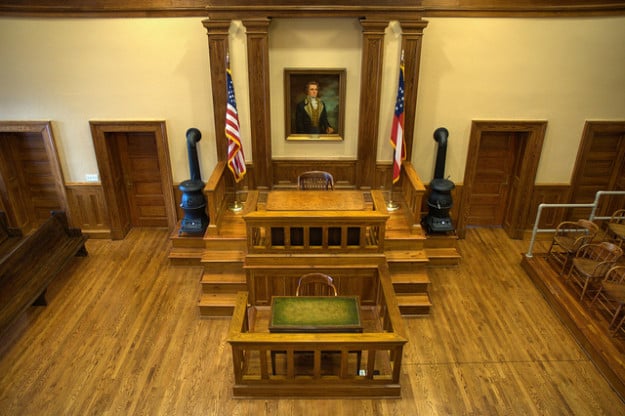 Last week, in an interview with The Wall Street Journal, Attorney General Eric Holder hinted that the U.S. Department of Justice was close to making charging decisions in numerous crisis-era investigations into large financial companies. "My message is, anybody who's inflicted damage on our financial markets should not be of the belief that they are out of the woods because of the passage of time," he said to the publication. "If any individual or if any institution is banking on waiting things out, they have to think again."
More than five years have passed since the housing market bubble burst, causing a credit crisis and leaving financial institutions stuck with securities that had lost much of their value — and the federal government is still attempting to assign responsibility for the problems that drove the mortgage boom and the subsequent collapse of the housing market.
Thanks to its 2008 acquisition of Countrywide Financial, Bank of America (NYSE:BAC) has been drawn into federal court for years regarding its mortgage business, and while the government's latest allegation of fraud was made in October, the lawsuit switched into high gear this week, proof of the Justice Department's ongoing commitment to pursuing litigation with any individual or institution that damaged the U.S. financial markets.
Countrywide Financial has cost Bank of America more than $45 billion in settlements over the subprime lender's allegedly fraudulent mortgages, and those costs have proved to be quite troublesome for the bank's balance sheet. CEO Brian Moynihan has made it his goal to clean up the institution's legal docket, but that has proved to be a tough task, especially as the bank's recent efforts to dismiss government fraud allegations failed.
In an order made public Tuesday, U.S. District Judge Jed Rakoff denied the bank's request to dismiss the government's case, noting there were "genuine factual disputes" that justified the civil mortgage fraud lawsuit, Reuters reported. "The government's theory in part has always been that the defendants, through their own internal processes, covered up how defective the loans were and made them appear — even for the purposes of their ultimate internal figures, let alone what they represented to others — less defective than they were," Rakoff said in the order. "That may be right, that may be wrong."
While few cases linked to crisis-era financial misconduct have gone to trial, Bank of America will now face a trial by jury beginning, as scheduled, on September 23. The federal government alleges that Countrywide sold Fannie Mae (FNMA.OB) and Freddie Mac (FMCC.OB) billions of dollars' worth of toxic mortgage loans, and in October, the Justice Department joined a whistleblower lawsuit initially brought by Edward O'Donnell, a former Countrywide executive.
The government seeks damages and civil penalties under the False Claims Act and the Financial Institutions Reform, Recovery, and Enforcement Act of 1989 for "engaging in a scheme to defraud the Federal National Mortgage Association [Fannie Mae] and the Federal Home Loan Mortgage Corporation [Freddie Mac]."
Specifically, the complaint claims that between "at least 2007 through 2009," Countrywide, and later Bank of America, implemented a new loan origination process "intentionally designed" to process loans quickly and without quality checkpoints. This process allegedly generated thousands of fraudulent and otherwise defective residential mortgage loans that were sold to the government-owned mortgage financiers and subsequently defaulted.
It was the first civil fraud suit brought by the Department of Justice concerning mortgage loans sold to Fannie Mae or Freddie Mac.
In the press release announcing the lawsuit, Manhattan U.S. Attorney Preet Bharara said, "For the sixth time in less than 18 months, this Office has been compelled to sue a major U.S. bank for reckless mortgage practices in the lead-up to the financial crisis." However, in court papers seen by Reuters, Bank of America countered that claim, stating that the loan origination process was a "legitimate and good-faith effort" to develop a system for making prime loans after the subprime mortgage market collapsed. "This program ended before our purchase of Countrywide, as the government acknowledges," Bank of America spokesman Lawrence Grayson told the Reuters. "We believe there was no fraud."
Bank of America is also currently embroiled in a second mortgage lawsuit. In conjunction with the Securities and Exchange Commission, the Justice Department sued the financial institution three weeks ago, charging that it defrauded investors when it sold $850 million worth of mortgage-backed securities in early 2008.
Follow Meghan on Twitter @MFoley_WSCS