Reactions to Dreamliner Fire Spark Old Concerns for Boeing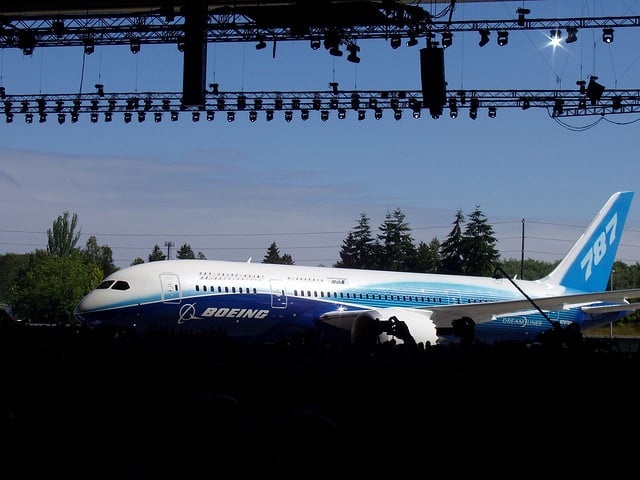 While the Boeing (NYSE:BA) stock price tumbled following the fire at a Dreamliner plane Friday, the European Aviation Safety Agency (EASA) said it was too early to make any decisions on whether the 787 aircraft would be grounded again. Industry analysts are bracing for bad news, with many saying another battery-related issue would be disastrous for the company.
Reuters reports the EASA is waiting on an investigation by Boeing itself, as the company is already on the ground at Heathrow Airport in London, trying to determine what made the Ethiopian Airlines plane catch fire Friday. The BBC reports Ethiopian Airlines is not grounding any of its Dreamliners currently in service. Several experts in the aviation industry have told the press the fire does not appear to have broken out near the site where lithium ion batteries (a previous fire hazard) are kept on the planes. Were the cause of the fire determined to be battery-related, Boeing would have a huge problem on its hands.
"Another battery-related incident would represent the worst-case scenario for Boeing shares," wrote Carter Copeland of Barclays Plc, according to a Bloomberg report. "It might cause investors to revisit financial consequences associated with another grounding of the aircraft, potential production stoppages and any sort of redesign."
Others suggest any problem, whether battery-oriented or not, could have serious implications for the company.
"While little is known yet, given the past battery problems on the 787 that led to a four-month grounding of the fleet, any issues with the aircraft will likely face heightened scrutiny," said Robert Stallard of RBC Capital Markets in Financial Times.
Investors reacted swiftly on Friday, sending shares on a drop of more than 7 percent after the news broke. However, as reports started to hint the fire was not battery-related, the price recovered slightly, ending the day on a 4.7 percent loss. Market sensitivity was at its highest with respect to the lithium batteries that forced the entire Dreamliner fleet to be grounded earlier in the year.
While the EASA has jurisdiction over airlines flying Dreamliner planes in Europe, the U.S. Federal Aviation Administration has the power to ground the fleet for flights based in the U.S. The fire has sparked old concerns for Boeing with its new signature plane, but it's unclear how bad the situation will get and whether the FAA will be forced to act.