Real Estate Market Catches a Break During Government Shutdown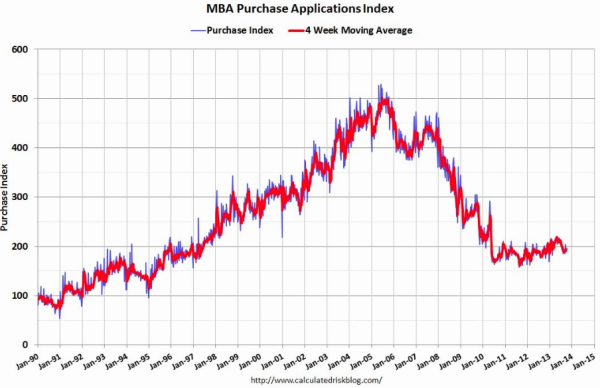 Although the real estate market has bounced from lows reached during the financial crisis, higher interest rates and a still-sluggish economy have weighed on homebuyers in recent months. The government shutdown also doesn't help, as some loan processing functions are delayed. However, mortgage applications in the United States managed to climb higher as rates dipped to their lowest level in months.
According to the Mortgage Bankers Association's latest report, for the week ended October 4, loan applications increased 1.3 percent on a seasonally adjusted basis from one week earlier — only the sixth gain in 22 weeks. The figure includes both refinancing and home purchase demand and covers more than 75 percent of all domestic retail residential mortgage applications.
The industry group's refinance index increased 3 percent from a week earlier and is at its highest level since the beginning of August. Overall, the refinance share of mortgage activity accounted for 64 percent of total applications, which is 1 percent higher from a week earlier and 7 percent above its lowest level since April 2010.
The average interest rate for a 30-year fixed-rate mortgage decreased from 4.49 percent to 4.42 percent, representing the lowest rate since mid-June. The most recent average rate for a 15-year fixed-rate mortgage came in at 3.52 percent, compared to 3.55 percent the week before. Between the beginning of May and the end of June, the average interest rate for a 30-year fixed-rate mortgage surged from 3.59 percent to 4.68 percent.
Rapidly rising interest rates, along with higher prices, became a concern earlier this year, as they directly affect affordability. In the second quarter, 69.3 percent of new and existing homes sold were affordable to families earning the U.S. median income of $64,400, according to the National Association of Home Builders. That is down from 73.7 percent in the first quarter and is the first reading below 70 percent since late 2008. In fact, a new analysis from Zillow finds that three out of 10 Americans are unlikely to qualify for a mortgage.
In morning trading, shares of home builders D.R. Horton (NYSE:DHI) and PulteGroup (NYSE:PHM) both fell more than 1 percent. Home improvement names such as Home Depot (NYSE:HD) and Lowe's (NYSE:LOW) held up slightly better but still traded in the red. Home Depot and Lowe's have been among the best-performing names in the housing industry this year, but D.R. Horton and PulteGroup have underperformed.
Don't Miss: Your Cheat Sheet to the Debt Ceiling
Follow Eric on Twitter @Mr_Eric_WSCS