RealD Inc. Earnings Cheat Sheet: Swing to a Profit
RealD Inc. (NYSE:RLD) reported its results for the fourth quarter. RealD Inc is engaged in global licensor of 3D technologies. Its extensive intellectual property portfolio enables a premium 3D viewing experience in the theater, the home and elsewhere.
Don't Miss: Wall St. Cheat Sheet's newest Feature Trades of the Month!
RealD Earnings Cheat Sheet for the Fourth Quarter
Results: Swung to a profit of $4.3 million (8 cents/share) vs. a loss of $20.9 million or a loss of 85 cents per share in the year earlier quarter.
Revenue: Rose 5.6% to $58.5 million.
Actual vs. Wall St. Expectations: For RLD, the mean estimate a loss of 15 cents/share. Estimates ranged from a loss of 9 cents per share to a loss of 28 cents per share.
Quoting Management: "The fourth quarter capped an outstanding fiscal 2011 for RealD," said Michael V. Lewis, Chairman and Chief Executive Officer of RealD. "Despite challenging box office comparisons that impacted the industry during the quarter, RealD delivered 59% year-over-year growth in Adjusted EBITDA. Equally as important, we deployed a record 3,700 RealD Cinema Systems that will position the Company to benefit from a growing slate of 3D films scheduled for release this summer and beyond. Our significant increase in RealD-enabled screens, particularly in international markets, will enable a larger audience of moviegoers around the world to enjoy RealD's distinctive and immersive 3D visual experience."
Competitors to Watch: Ballantyne Strong, Inc. (AMEX:BTN), Avid Technology, Inc. (NASDAQ:AVID), IMAX Corporation (NASDAQ:IMAX), Chyron Corporation (NASDAQ:CHYR), Dolby Labs (NYSE:DLB), Best Buy (NYSE:BBY), Systemax (NYSE:SYX), Regal Entertainment (NYSE:RGC), Cinemark (NYSE:CNK), Carmike (NASDAQ:CKEC) and Digislide Holdings Ltd (NYSE:DGI).
Stock Performance: Shares of RLD are up over 4% to $25.10 per share after hours.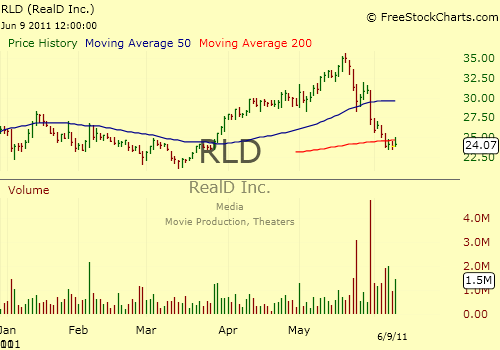 Don't Miss Wall St. Cheat Sheet's newest Feature Trades of the Month!
(Sources: YahooFinance, Xignite Financials)