Recession, Not Obamacare, To Thank for Lower 2013 Health Costs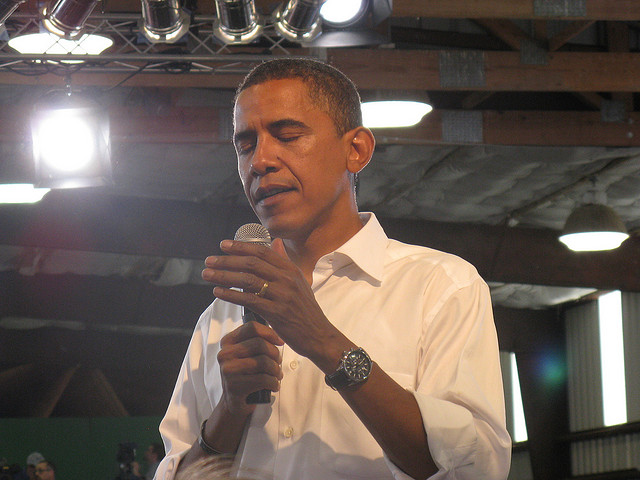 In his 2013 State of the Union Address, President Barack Obama proclaimed that, "Already, the Affordable Care Act is helping to slow the growth of health care costs" in the United States. "And the reforms I'm proposing go even further," he continued. "We'll reduce taxpayer subsidies to prescription drug companies and ask more from the wealthiest seniors. We'll bring down costs by changing the way our government pays for Medicare, because our medical bills shouldn't be based on the number of tests ordered or days spent in the hospital. They should be based on the quality of care that our seniors receive."
Mirroring his words, Joanne Peters, a spokeswoman for the Department of Health and Human Services told Bloomberg via email that the health care reform "holds insurers accountable for cost increases and encourages smarter care, two factors which are contributing to the slowdown of growth in costs. Already consumers have saved billions of dollars in premiums thanks to the rate review, medical-loss ratio provisions, and policies to promote quality and value in Medicare."
Health care costs have indeed decreased in the past several years. After several years of moderate income growth and stagnant insurance coverage, actuaries at the Centers for Medicare & Medicaid Services, or CMS, estimated that private health insurance spending growth held constant at 3.8 percent in both 2011 and 2012, growth equivalent to half of pre-recession levels. In 2013, growth is also projected to come in at 3.8 percent. But there is no sign that the Affordable Care Act was responsible for drop in health care-related costs.
Rather, the economic recession has been cited as the culprit, which seems reasonable given that costs are expected to jump 6.1 percent in 2014, the year the law's individual insurance mandate is implemented. A report published in the journal Health Affairs, CMS actuaries provided evidence that the slowdown in spending is not related to Obamacare. "It certainly adds one more piece to the puzzle for those who say 'hey wait a second, this isn't the final word on how to reform American health care,'" American Enterprise Institute policy analyst James Capretta, who worked in the administration of former President George W. Bush, said in an interview with Bloomberg.
"Improving economic conditions, combined with the coverage expansions in the Affordable Care Act and the aging of the population, drive faster projected growth in health spending in 2014 and beyond," stated the report in its opening paragraph. In just the first year the exchanges are open, national health care spending is projected to grow 1.6 percentage points faster than would be expected in the absence of Obamacare.
Costing a total of $1.3 trillion, Obamacare was designed to extend insurance coverage to most of the United States' 50 million uninsured by creating state-run or federally-facilitated insurance exchanges and expanding state Medicaid programs. The health care reform also included provisions that have allowed young adults to remain covered by their parents insurance policies until age 26, protected children with serious medical conditions, and helped seniors pay for prescriptions. Calculations show that eleven million Americans will gain health insurance coverage in 2014, predominantly through either Medicaid or the Affordable Care Act-mandated insurance marketplaces, formally known as exchanges.
With more affordable access to health care, the use of goods and services among the newly insured is expected to contribute significantly to spending increases in Medicaid, by 12.2 percent, and private health insurance, by 7.7 percent. Accordingly, CMS actuaries have estimated that out-of-pocket spending will decline 1.5 percent next year because of new access to insurance coverage for those who had previously paid for all health expenses and lower cost sharing for those with improved coverage.
Even more noteworthy is the fact that, "By 2022, the Affordable Care Act is projected to reduce the number of uninsured people by thirty million, add approximately 0.1 percentage point to average annual health spending growth over the full projection period, and increase cumulative health spending by $621 billion." In total, health care expenditures on hospital visits, medications, and other care will average 5.8 percent annually through 2022, according to the report, which is about 1 percentage point faster than the projected rate of gross domestic product growth.
By then, health care spending will amount to $5 trillion and account for close to one-fifth of the economy. Plus, by 2022, federal, state, and local governments are projected to finance 49 percent of all national health spending with increases in the federal government's share largely the result of expanded Medicaid eligibility, federal subsidies for insurance coverage for policies purchased through the exchanges, and growth in Medicare enrollment as the baby boomer generation ages. As of 2013, health care spending represented 18 percent of the economy.
Before, the United States entered an 18-month recession in December 2007, health care spending growth averaged 8 percent annually, but the economic downturn and subsequent weak recovery has kept growth rates slow for years. Even in 2013, consumers are expected to remain sensitive to rising health costs and use health care services sparingly as a result of sluggish income growth and the expiration of the payroll tax holiday.
However, "once the economy improves substantially we would expect health spending to respond in kind," Gigi Cuckler, an economist who tracks actuarial information at CMS, told Bloomberg reporters. "We're not convinced that that relationship has been broken in the past couple of years."
The report compiled by CMS actuaries contrasts with several independent reports. Harvard economist David Cutler, a former Obama campaign adviser, published a study in Health Affairs in May that found the recession accounted for only 37 percent of the slowdown in health costs from 2003 to 2011. He wrote that the majority of the change was "unexplained."
In a 2012 report, PriceWaterhouseCoopers Health Research Institute called the lower growth rates a "new normal" that can't be attributed to the recession alone. "We believe the slowdown is a combination of the recession hangover, actions taken by employers, and individual consumers and some structural changes in the industry," the institute's managing director Ceci Connolly told Bloomberg.
Follow Meghan on Twitter @MFoley_WSCS
Don't Miss: 10 Signs Americans Are Still Stuck in the Great Recession.