Regions Financial Named Top Pick and 3 Stock Analyses Making Rounds
Dick's Sporting Goods Inc. (NYSE:DKS): Current price $48.52
Oppenheimer believes that concerns about a significant slowing in Dick's Sporting Goods Inc.'s sales as a result of warmer weather are largely overdone. Recent industry data suggests that sporting goods sales have stayed strong, and the firm believes that the company's fourth quartert results could provide a positive catalyst to the stock. They maintain an Outperform rating on the shares.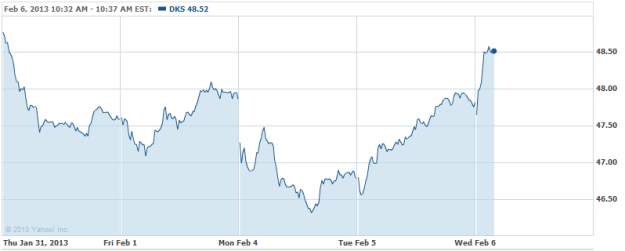 Celanese Corp. (NYSE:CE): Current price $47.63
SunTrust named Celanese Corp. a new top pick and raised estimates given optimism over the Consumer Specialties and Acetyls segments. Shares are Buy rated.

Regions Financial Corp. (NYSE:RF): Current price $7.9350
SunTrust named Buy-rated Regions Financial Corp. a top pick given their earnings per share growth which is driven by their restructuring initiatives.

Myriad Genetics Inc. (NASDAQ:MYGN): Current price $26.76
Cowen believes that Myriad Genetics Inc.'s increased guidance remains conservative citing improved margins and tax rates as well as assumptions that include no increase to the Companion Diagnostics revenue range and expectations that BART percentage usage remains the same. Shares are Outperform rated.

Don't Miss: Is Google Outpacing Apple?