Rent-A-Center Earnings: Stock Crushed After Hours
Rent-A-Center Inc. (NASDAQ:RCII) reported a lower net income in the first quarter compared with a year earlier, falling below analysts' estimates. Rent-A-Center, Inc. is an operator in the United States rent-to-own industry.
Don't Miss: Wall St. Cheat Sheet's newest Feature Trades of the Month!
Rent-A-Center Earnings Cheat Sheet for the First Quarter
Results: Net income for the rental and leasing services company fell to $44.2 million (69 cents/share) vs. $51.5 million (77 cents/share) a year earlier. A decline of 14.1% from the year earlier quarter.
Revenue: Rose 3.3% to $742.2 million YoY.
Actual vs. Wall St. Expectations: RCII fell short of the mean analyst estimate of 85 cents/share. Estimates ranged from 82 cents per share to 86 cents per share.
Quoting Management: "Our first quarter was negatively impacted by February results that ended poorly; however, the business has bounced back nicely in March and April," said Mark E. Speese, the Company's Chairman and Chief Executive Officer. "Our core rent-to-own portfolio ended the first quarter near our original forecast and, as such, we are confirming our existing guidance for 2011," Speese continued. "As for our growth initiatives, we are very pleased to report that our RAC Acceptance and Mexico businesses exceeded both their revenue and store operating income goals in the quarter."
Key Stats:
The company has now seen net income fall in each of the last two quarters. In the fourth quarter of the last fiscal year, net income fell 27.1% from the year earlier quarter.
Competitors to Watch: Aaron's, Inc. (NYSE:AAN), AeroCentury Corp. (AMEX:ACY), McGrath RentCorp (NASDAQ:MGRC), Best Buy Co., Inc. (NYSE:BBY), GameStop Corp. (NYSE:GME), RadioShack Corporation (NYSE:RSH), CONN'S, Inc. (NASDAQ:CONN), hhgregg, Inc. (NYSE:HGG), and Electro Rent Corporation (NASDAQ:ELRC).
Today's Performance: Shares of RCII are trading down 5.27% in after hours trading.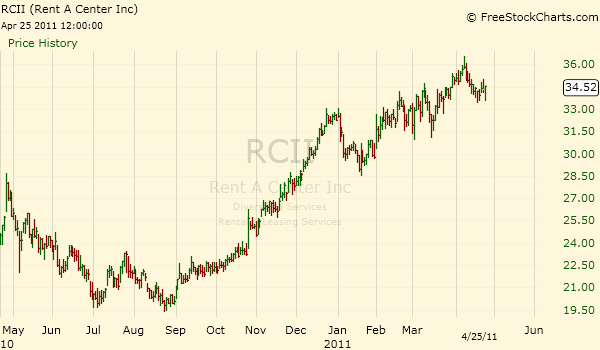 Don't Miss Wall St. Cheat Sheet's newest Feature Trades of the Month!