Repligen Earnings Cheat Sheet: Swing to a Loss After Two Straight Profit Quarters
Repligen Corporation (NASDAQ:RGEN) reported its results for the fourth quarter. A biopharmaceutical company, focused primarily on the development of novel therapeutics for radiology and neuropsychiatry.
Don't Miss: Wall St. Cheat Sheet's newest Feature Trades of the Month!
Repligen Earnings Cheat Sheet for the Fourth Quarter
Results: Loss widened to $2 million (6 cents/diluted share) from $1.6 million (loss of 5 cents/share) in the same quarter a year earlier.
Revenue: Rose 21.2% to $5.9 million YoY.
Actual vs. Wall St. Expectations: RGEN fell short of the mean analyst estimate of a loss of 3 cents/share.
Quoting Management: "During the past year, we advanced our product candidate RG1068 towards an NDA filing and expanded our bioprocessing business," stated Walter C. Herlihy, President and Chief Executive Officer of Repligen Corporation. "We look forward to gaining marketing approval for RG1068 and pursuing the acquisition of additional assets to expand our revenue base."
Key Stats:
Revenue has risen the past four quarters. Revenue increased 25.8% to $7.1 million in third quarter. The figure rose 34.8% in second quarter from the year earlier and climbed 38.5% in first quarter from the year-ago quarter.
RGEN's loss in the latest quarter follows profits in the previous three quarters. The company reported a profit of $375,916 in the third quarter, a profit of $623,209 in the second quarter and $988,053 in the first.
Competitors to Watch: Life Technologies Corp. (NASDAQ:LIFE), Bristol Myers Squibb Co. (NYSE:BMY), Neurocrine Biosciences, Inc. (NASDAQ:NBIX), EntreMed, Inc. (NASDAQ:ENMD), Titan Pharmaceuticals, Inc. (TTNP), Amgen, Inc. (NASDAQ:AMGN), Neuralstem, Inc. (AMEX:CUR), General Electric Company (NYSE:GE), Novavax, Inc. (NASDAQ:NVAX), and Sangamo Biosciences, Inc. (NASDAQ:SGMO).
Stock Performance: Shares of RGEN are trading lower at $3.68 per share today.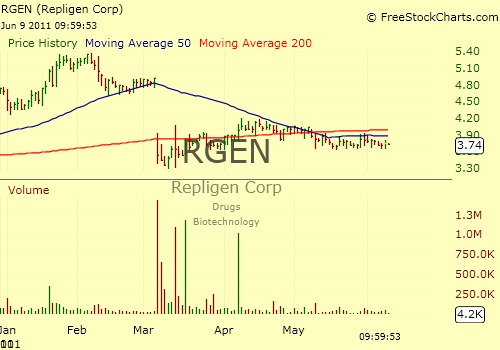 Don't Miss Wall St. Cheat Sheet's newest Feature Trades of the Month!
(Sources: YahooFinance, Xignite Financials)