Report: Bank of America Selling Off Dozens of Branches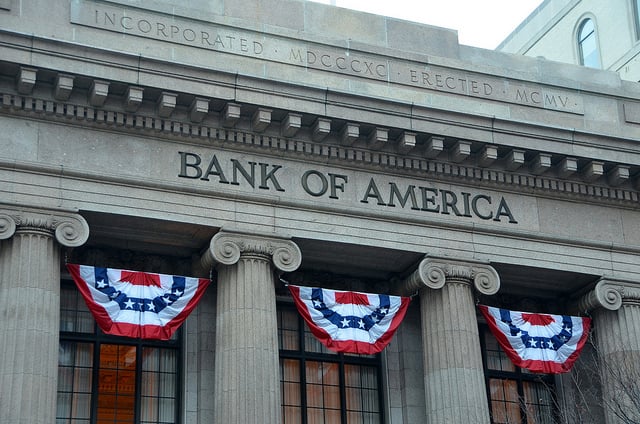 Bank of America Corp. (NYSE:BAC) is continuing with its restructuring plan and has found a buyer for more than 50 branches in the West, according to The Seattle Times. Four states will see their BofA locations disappear, with Washington Federal (NASDAQ:WAFD) taking control of the branches and employees alike.
All told, Washington Federal will take on 51 branches in Idaho, New Mexico, Oregon, and its home state of Washington. Bank of America received a premium of 2.6 percent on the deposits in the 51 branches, according to Washington Federal reps.
Bank of America is making moves to restructure its business in several regions. By selling off 11 locations in New Mexico and 15 in Idaho, BofA is giving up market share and conceding its place in these states to Washington Federal, which is on the rise in the West.
"We couldn't pass up the opportunity to do it in one feel swoop," said Washington Federal CEO Roy Whitehead. The Seattle-based bank said it would offer jobs to BofA employees now working at the branch locations. BofA officials touted this aspect as benefiting area residents.
"At the end of the day, this decision benefits our current employees and the communities they serve," a BofA rep told KOB.com. "Selling these locations, as opposed to closing them outright, preserves jobs and ensures a brick-and-mortar banking presence in town."
The Idaho Statesman reports the sale will give Washington Federal the third biggest market share in Idaho, where Wells Fargo (NYSE:WFC) has the top spot with 26.8 percent. The timing of BofA's trimming coincided with Washington Federal's desire to grow in the West.
The efforts of the biggest banks to increase profits is working. The Financial Times reports that the banking titans are enjoying profits not seen since pre-crisis times. Over the course of the past year, shares of BofA have doubled, despite complaints about increased regulations.
Senator Sherrod Brown (D-Ohio) has gone on the record suggesting Ben Bernanke should continue to pressure banks. "It's no surprise that mega banks are doing quite well," Brown said recently. "Yet they continue to claim that regulations…are killing them."
Don't Miss: Are Borrowers Using Credit More Wisely?