Report: Boeing Has Bigger Dreamliner on the Way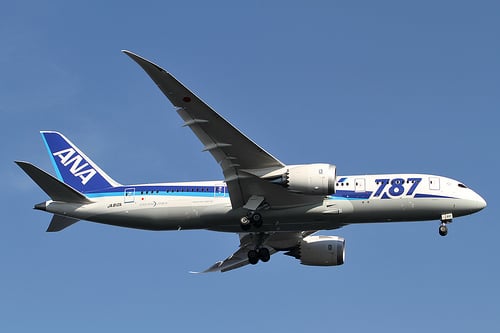 After settling production issues and getting its 787 Dreamliner back into the sky, Boeing (NYSE:BA) will likely unveil a larger version of its new signature plane to an expectant market, according to reports. Boeing's expansion of the Dreamliner seating capacity would give the company an answer to the Airbus A350 while giving airlines a way to haul more passengers per flight, increasing profits on every run.
Sources told Reuters Boeing is saving its announcement for the upcoming Paris Air Show, but word started traveling just as Airbus celebrated the maiden voyage of the A350. Both the A350 and Dreamliner feature lighter materials that make the planes more fuel-efficient, though Airbus representatives say the A350 gets better mileage overall. An increased passenger capacity in what is called the 787-10 would give airlines an opportunity to run flights more economically. Increased range, which Boeing's customers may not want or need, is not part of the package.
Therefore, the market for the plane exists in long-haul regions like Asia. Singapore Airlines is one company with strong interest in the larger Dreamliner, as are British Airways and Air Lease Corp (NYSE: AL). When the Dreamliner was grounded over serious troubles with its lithium batteries, talks about the larger version were tabled for a later date. However, as the Paris Air Show looms, all eyes are focused on Boeing and Airbus.
According to The Associated Press, Boeing has 890 orders for its Dreamliner planes, compared to 613 for the Airbus A350. The 787 line is significantly less expensive, at $206 million for the lowest-priced model, compared to $254 million for the A350. One major distinction is that Airbus does not use lithium batteries on its planes, allowing the company to push the A350 as the safer model.
Airbus has criticized Boeing's practice of sacrificing range for added passenger capacity, yet Boeing is downplaying that as a weakness, instead focusing on the benefits for airlines who aren't concerned about range in planes this size. With the A350 fresh off its maiden voyage and expectations of an announcement about a new Dreamliner ahead, it will be difficult for other aircraft manufacturers to get a headline at the Paris Air Show, which begins Monday.
Don't Miss: 3 Ways Baby Boomers Are Redefining Retirement.