Report: Citigroup Already Alerting Investors to Q3 Difficulties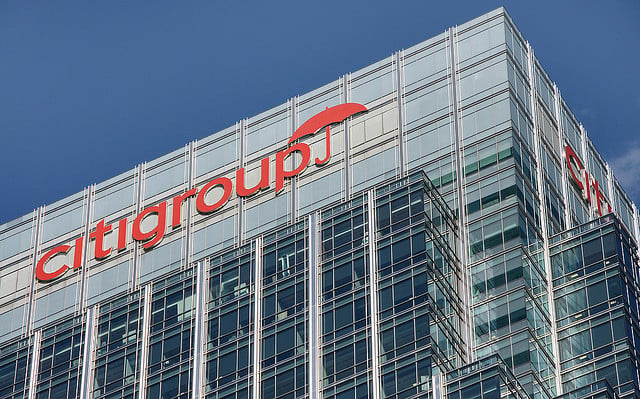 When Citigroup (NYSE:C) reports the results of its operations from the July through September quarter on October 15, the numbers are likely to show it was a tough three months for the bank's trading division. Through sources familiar with conversations held between investors and bank officials in recent days, the Financial Times learned that Citigroup's trading revenues dropped significantly in the third quarter, and that drop threatens to depress the company's earnings. Just one week remains before the current financial period ends on September 30, leaving no time for any reversal.
Hopes for a late pickup were dashed when the Federal Reserve announced last week that the central bank would not increase interest rates. One official told the publication that the expected "tapering" of the Fed's monthly bond purchases would have prompted investors to adjust their portfolios in preparation for the higher interest rate environment. When interest rates rise, bond prices fall. In recent months, longer-maturity, higher-yielding and riskier bonds have been hit hard, and these are the very assets that the Fed's ultralow interest rate policy has encouraged income-seeking investors to embrace.
The market yield on 10-year Treasury bonds have increased by more than 110 basis points since the end of April as investors prepared for the Fed to decrease its monthly bond purchases. The central bank's $85-billion monthly asset purchases were meant to hold down long-term interest rates to make borrowing easier, and three rounds of stimulus have helped the S&P 500 surge more than 150 percent since March 2009.
Citigroup declined to comment to the Times, but the third-largest U.S. bank by assets will not likely be the only large financial institution to report a slowdown in bond trading revenues after the summer-long weakness in market business.
Deutsche Bank (NYSE:DB) is expected to report that revenue growth was stymied by weakness in fixed income trading, according to the Financial Times, while Barclays (NYSE:BCS) announced last week that income dropped "significantly" in the investment bank during July and August as the result of lower fixed-income revenues. Credit Suisse (NYSE:CS) has also given a similar warning. Insiders say that Citigroup's discussions with investors have highlighted that slowdown in activity, and now some investors believe that revenues will fall by more than 10 percent.
Of all banks in the United States, Citigroup is the most exposed to emerging markets, where falling currency rates have discouraged investments. Even more worrisome is that fact that its business is weighted heavily towards interest rates and foreign exchange, both weak areas across Wall Street. Thanks to the bank's acquisition of Salomon Brothers in 1998, trading in fixed income, currencies and commodities, or FICC, is a particularly strong business for Citigroup.
In the third quarter of 2012, Citigroup generated $3.7 billion in revenue, a figure that surpassed the results of every other U.S. bank, including traditional market leader JPMorgan Chase (NYSE:JPM), which had lingering difficulties from the "London Whale" trading loss.
But for Citigroup, the third quarter of this year will be much different. Earnings will be reported on October 15, the day before the one-year anniversary of the bank's firing of former Chief Executive Vikram Pandit, whose poor management and execution the board feared hurt the bank's credibility with investors.
The financial crisis — which Citigroup survived thanks to massive government intervention — fell right in the middle of his tenure. From December 11, 2007, the day Pandit was named CEO, to the announcement of his departure on October 16, 2012, the bank's stock plummeted a split-adjusted 89 percent. His replacement, Michael Corbat, is looking to leave a different legacy. Weaker results this quarter would complicate his efforts to improve Citigroup's operating performance, but they are not expected to be so bad that his full-year profit targets would be unattainable.
For Citigroup, this is not the first indication of trouble. JPMorgan Chase analyst Vivek Juneja wrote last Wednesday that the bank faces "pressures on several revenue sources, international credit costs, and high legal expenses." The research note, acquired by The Street, was part of a preview of third-quarter earnings of large-cap banks. As a group, these banks will suffer from a major decline in mortgage loan originations and a decline in gain-on-sale spreads for newly originated loans sold to Fannie Mae and Freddie Mac. Juneja also said he expects a "larger than normal seasonal decline in capital markets," plus "weak loan growth" and a narrowing of net interest margins "for some."
Juneja forecast that Citigroup will report a third-quarter revenue, excluding interest expense, of $18.821 billion, down from $20.479 in the second quarter. Revenue is expected to increase from $13.703 billion in the third quarter of 2012, when the company booked a $3.470 billion impairment losses on its 35 percent share of the retail brokerage joint venture with Morgan Stanley that has since been sold.
Follow Meghan on Twitter @MFoley_WSCS
Don't Miss: Here's Why JPMorgan Spends $5 Billion Annually on Legal Bills.