Report: Microsoft and Yahoo Steal This Much of Google's Search Engine Market Share
comScore (NASDAQ:SCOR) came out with its monthly search engine rankings on Friday, and there was some encouraging news for Microsoft (NASDAQ:MSFT) and Yahoo (NASDAQ:YHOO). Both companies saw a 0.2 percent increase in their market share of search engine queries. Unfortunately, both still trail Google (NASDAQ:GOOG) by a wide margin.
The total number of explicit search queries rose from 18.3 billion in February to 20.4 billion in March. Google saw a total of 13.7 billion explicit core searches in March, up 11 percent (1.4 billion queries) from February, but saw its market share drop from 67.5 percent to 67.1 percent.
Meanwhile, second place Microsoft saw its search queries increase from 3 billion in February to 3.4 billion in March (13 percent increase), and its market share increase from 16.7 percent to 16.9 percent.
Yahoo saw similar results as its search queries increased from 2.1 billion to 2.4 billion (14 percent increase), and its market share increase from 11.6 percent to 11.8 percent in February. The top 5 rounded out with IAC/InterActiveCorp's (NASDAQ:IACI) Ask.com and AOL (NYSE:AOL) garnering 2.7 percent and 1.6 percent, respectively.
Microsoft Sustains Growth
While the increased search queries is definitely heartening news for…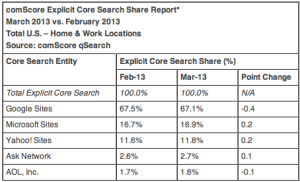 the entire search engine industry, Microsoft and Yahoo have something to hang their hats on. Microsoft, in particular, has seen a steady 0.2 percent growth in market share over the past three months. While not astronomical, it is impressive that they have seen any type of sustained growth at all while battling Google.
Yahoo, on the other hand, has had a harder time holding its footing. While any kind of growth is encouraging, Yahoo is down 0.4 percent in market share since the start of the year. If it wants to be a significant player as a search engine, it needs to procure the sort of sustained growth that Microsoft is enjoying.
Don't Miss: What's the Deal, PC? Tablets Got Your Sales?