Report: Sequestration and Obamacare Pushing Up Layoffs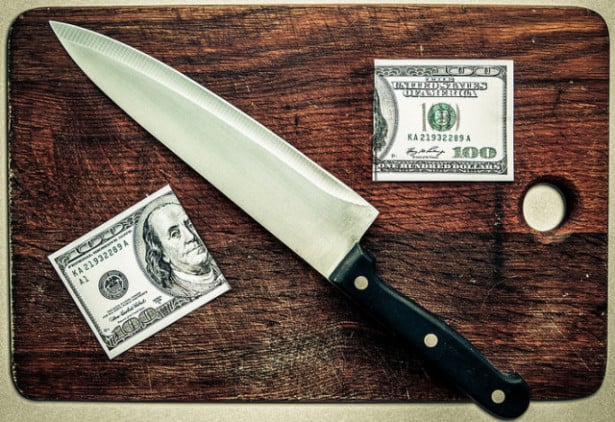 "It is important to remember that while it is critical for government spending to be reduced in order to shrink the nation's deficit, these cutbacks do not occur in a vacuum. They have real-world consequences that ripple throughout the economy. So, the push to cut federal spending, while absolutely necessary, is going to impact jobs both inside and outside of the government. We are seeing it in health care, education, and aerospace and defense," John Challenger said in a Thursday report from the global outplacement consultancy firm Challenger, Gray & Christmas.
March's across-the-board spending cuts to the federal budget — known as the sequester — was expected to be "a slow grind that will intensify with each passing day," according to President Obama. "Every time we get a piece of economic news over the next month, the next two months, the next six months," he said at a press conference in March, "as long as the sequester is in place, we will know that economic news could have been better if Congress hadn't failed to act."
At the time, economists assessed the damage at 750,000 lost jobs, and at least half a percentage point missing from national growth statistics. In July, when reports of job cuts began emerging from government agencies like the Department of Defense and the Census Bureau, Congressional Budget Office Director Douglas W. Elmendorf wrote that if the sequester were canceled, it would boost employment between 300,000 and 1.6 million in the 2014 fiscal year.
The figure — 1.6 million — somehow became the number of job cuts that have resulted from sequestration. "We have learned that the sequestration already has cut 1.6 million jobs. So we need job creation. We need to help the middle class by creating jobs," Senate Majority Leader Harry Reid said during a floor speech on July 31. But Mark Zandi, chief economist at Moody's Analytics, said that the real impact would not be until later in the year. Still, he did tell the Christian Science Monitor that the effect of the budget cuts would be 25,000 jobs per month in 2013 for a total of 250,000 jobs.
For a period early this year, economists postulated that the pace of hiring would speed up once March's across-the-board spending cuts worked their way through the system at the end of the fiscal year on September 30. But, of course, new problems have emerged. Now, Congress must compromise on a continuing resolution to fund the federal government and deal with the debate over raising the debt ceiling, which could include additional austerity measures.
Further austerity measures would mean that the problems created by the shrinking government could continue into the next year. "Whether there's less fiscal drag, more fiscal drag, or a train wreck, we still really don't know," MFR's chief United States economist, Joshua Shapiro, told The New York Times after the August Employment Situation Report was released.
What Challenger's report showed is that planned layoffs have outpaced year-ago levels for four consecutive months. Generally, the one piece of the labor market puzzle that has been improving is layoffs. While hiring has get to gain significant momentum, economists have noted that companies appear to have ended the long cycle of elevated layoffs that characterized the 2007 to 2009 recession.
And Challenger's numbers show that planned job cuts did fall to their lowest level in three months, with U.S. employers announcing plans to reduce payrolls by 40,289 jobs in September.
That figure is 20 percent less than than the 50,462 planned layoffs recorded in August, which was a six-month high. But September's total was also 19 percent higher than the 33,816 announced the same month last year. This trend has pushed job cuts in the third quarter up 25 percent from year-ago levels. For the three-month period ended September 20, 128,452 planned layoffs were announced, compared to 102,910 in the same period in 2012.
That third-quarter total was also 13 percent higher than the second quarter, when 11,891 job cuts were announced. Still, despite this surge, the overall pace of job cutting is little changed from a year ago, So far this year, employers have announced 387,384 job cuts, an increase of 0.4 percent from the 386,001 announced from January through September in 2012.
As Challenger's comments indicate, the Affordable Care Act and sequestration have been important drivers in payroll adjustments. However, to be clear, the layoffs that the health care reform has prompted only significantly affected the health care sector, not the broader economy, according to the report.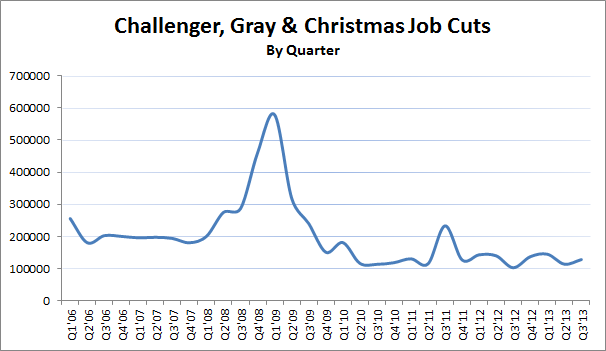 "The health care sector is adjusting workforce levels due to cutbacks in Medicare and Medicaid reimbursements initiated under the Affordable Care Act as well as overall reductions in federal spending due to sequestration. A prime example of this occurred last month, when the Cleveland Clinic announced plans to reduce its headcount by 3,000, accounting for more than one-third of the health care cuts during the month. It attributed the cuts to lower government payments under health care reform," said Challenger.
After health care, the financial sector experienced the next largest number of job cuts in September. Financial firms announced 6,932 planned layoffs during the month, bringing the year-to-date total for the sector to 48,874, which is the highest for any industry in 2013. The culprit here was rising interest rates.
"Many of the recent banking cuts have been concentrated in the mortgage business. A couple of trends are happening here to help drive up job cuts. Many banks brought in extra workers in their mortgage departments to help deal with the large number of foreclosures. The number of foreclosures is now shrinking, which is eliminating the need for these extra workers. Additionally, recent upticks in interest rates have lowered demand for refinancing, which, in turn, is lowering the need for workers to process these transactions," noted Challenger.
Yet, "if there can be any silver lining in job-cut announcements, the banking cuts seem to be stemming from an improving economy. They are the result of fewer foreclosures and higher interest rates, neither of which would occur in a downward-heading economy. Home buying is increasing around the country, along with home prices," Challenger said in the report. Plus, "weekly jobless claims are declining to the some of the lowest levels we have seen since the end of the recession."
Furthermore, retailers are already hiring for the holiday season: Amazon (NASDAQ:AMZN) announced plans to hire 70,000 seasonal workers; Macy's (NYSE:M) plans to hire 83,000; Target (NYSE:TGT) said it will hire 70,000; and Wal-Mart (NYSE:WMT) plans to hire 55,000 people. In total, employers announced plans to hire 444,617 workers, with 99 percent of those payroll additions resulting from seasonal hiring.
Follow Meghan on Twitter @MFoley_WSCS
Don't Miss: Top 10 States With Skyrocketing Home Prices.