Republicans to NFL: Promoting Obamacare Would Tarnish Brand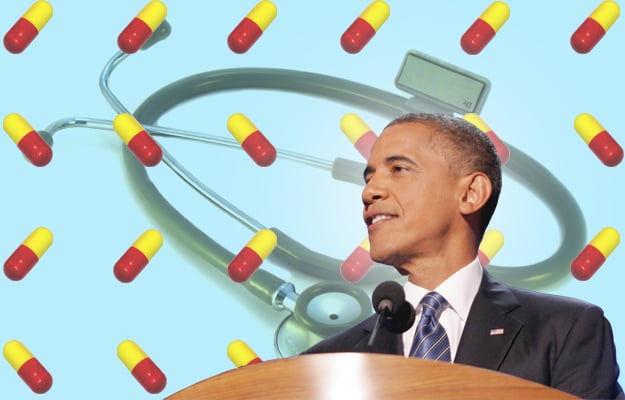 Health and Human Services Secretary Kathleen Sebelius was hoping that the National Football League could help make Obamacare look cool. But it looks like convincing athletes and sports leagues to promote the Affordable Care Act may not be an easy task.
Sebelius told reporters early last week that the National Football League was "enthusiastically engaged" in talks about a partnership to encourage people to enroll on the new health insurance exchanges, which will provide coverage to about 7 million Americans by the end of March 2014. However, by the week's end, the NFL had contradicted her statement, saying that the league "currently [has] no plans to engage in this area." This assertion came after the NFL received a public warning from Republican Senate leaders, who also sent letters to five other professional sports leagues suggesting they not promote Obamacare. The letters were cosigned by Minority Leader Mitch McConnell of Kentucky and Texas Senator John Cornyn.
"Given the divisiveness and persistent unpopularity of this bill, it is difficult to understand why an organization like yours would risk damaging its inclusive and apolitical brand by lending its name to its promotion," worte McConnell Cornyn to commissioner Roger Goodell in a letter published by TPM on Friday.
In later paragraphs, the two Republican Senators suggested that the only reason the NFL would go along with the outreach plan would be because the White House was threatening the league with "policy retaliation."
"We have long been concerned by the Obama Administration's record of using the threat of policy retaliation to solicit support for its policies or to silence its critics," the letter continued. "Should the administration or its allies suggest that there will be any policy consequence for your decision not to participate in their outreach efforts, we urge you to resist any such pressure and to contact us immediately so that we may conduct appropriate oversight."
"We never made any commitments or discussed any details," NFL spokesman Brian McCarthy told reporters from The Wall Street Journal,  regarding the discussion with the HHS.
It is clear why the department has targeted the NFL and other professional sports teams. The benefits of using athletes and celebrities is that they appeal to young people, and the Obama administration has calculated that approximately 2.6 million to 2.7 million cheap-to-insure young adults are needed to sign up for coverage on the online marketplaces in order to balance out the cost of insuring older and sicker adults. What is less obvious are the benefits to the sports leagues and celebrity athletes who have been asked to support the Affordable Care Act, which is just as politically divisive now as it was when it was signed into law three years ago.
There are only three months until people may begin signing up for health insurance coverage on either federally-run or state-run exchanges, and officials are scrambling to have the marketplaces prepared in time and educate the public about the reform. But officials have little money for education of promotion, after congressional Republicans rejected  funding requests from the administration for such purposes. To cover the funding gap, Sebelius has solicited corporate donations to fund Obamacare advertising by a nonprofit organization, a move that only angered Republicans. Making matters worse, polls show the American public is confused about how to use the new exchanges, where the uninsured will be able to buy plans beginning October 1 and apply for federal subsidies. A Gallup poll released last week found that 43 percent of uninsured Americans do not know they have buy coverage next year or pay a fine.
Sebelius did not disclose which other sports leagues were contacted by officials. In response to the fallout from her statement, a spokesman for the National Basketball Association, one of the leagues that was warned by Republicans, told reporters that the NBA had "nothing we plan to announce at this point."
For its part, the Obama administration points to the success the state of Massachusetts had promoting its state-run health exchange in 2006 with the Boston Red Sox. But, Massachusetts's plan was more popular than the national reform.
Still, Frank Vuono, co-founder of 16W Marketing, a New Jersey sports marketing firm, believes the NFL could benefit from promoting health insurance after its trouble with player safety. "It's a pretty smart thing on the NFL's behalf, to be pro-health and friendly with the federal government at this point," Vuono told the Journal. "Yeah, there could be a backlash from more conservative states. Do I think that would translate into people not rooting for their favorite team in the fall? I don't think so."
Don't Miss: Are Baby Boomers Feeling Better About Their Finances?