Restaurants: Americans Are Ditching the Wallet Diet
Eating food is practically the national pastime, especially considering the amount of money consumers spend on dining out. The Great Recession placed many budgets on a strict diet, but Americans are busting out their wallets and waistlines once again.
From celebrating a special occasion to simply taking a break from cooking at home, people enjoy eating out more than ever. After some weakness in the first three months of the year, restaurant sales hit a new record high in April, according to preliminary figures from the U.S. Census Bureau. Eating and drinking sales totaled a seasonally-adjusted $45.9 billion last month, up 0.8 percent from March and $200 million above the previous high set in December 2012.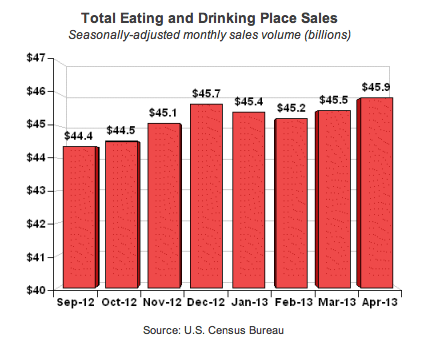 The downtick in the beginning of the year was most likely the result of the sequester and higher taxes taking effect. Bruce Grindy, chief economist at the National Restaurant Association, explains, "After totaling nearly $45.7 billion in December, eating and drinking place sales were dampened somewhat during the first three months of 2013, likely due in part to the impact of the payroll tax hike."
America is the most gluttonous country in the world, with more than a third of its citizens being classified as obese and more than 300,000 restaurants, but there is still untapped potential for the restaurant industry.
In a survey of 1,000 adults, the National Restaurant Association finds that 49 percent of people are not eating at restaurants as frequently as they would like. The pent-up demand is even strong among those aged 35 to 44, with 59 percent saying they wish to eat out more. Meanwhile, 51 percent of adults polled said they are not ordering take-out or delivery as often as they want.
The next generation also looks set to take a seat at the dining-out table. A nationwide study by Y-Pulse reveals that 63 percent of kids between the ages of 8 and 13 "love" quick-service restaurants in 2013, compared to only 48 percent in 2010.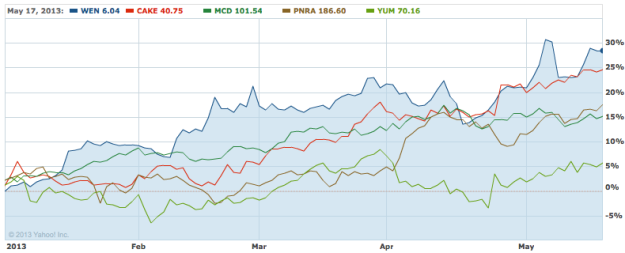 As the chart above shows, it has been a good year for many restaurant-related stocks. Shares of Wendy's (NYSE:WEN) and the Cheesecake Factory (NASDAQ:CAKE) have led the way with gains of 28.5 percent and 24.5 percent year-to-date, respectively. Shares of McDonald's (NYSE:MCD) and Panera (NASDAQ:PNRA) have both increased more than 15 percent this year. However, Yum! Brands (NYSE:YUM) has lagged behind the competition due to food safety issues in China.
Don't Miss: Are Americans Still Delaying Retirement?