These Restaurants Banned NFL Games Over the National Anthem Controversy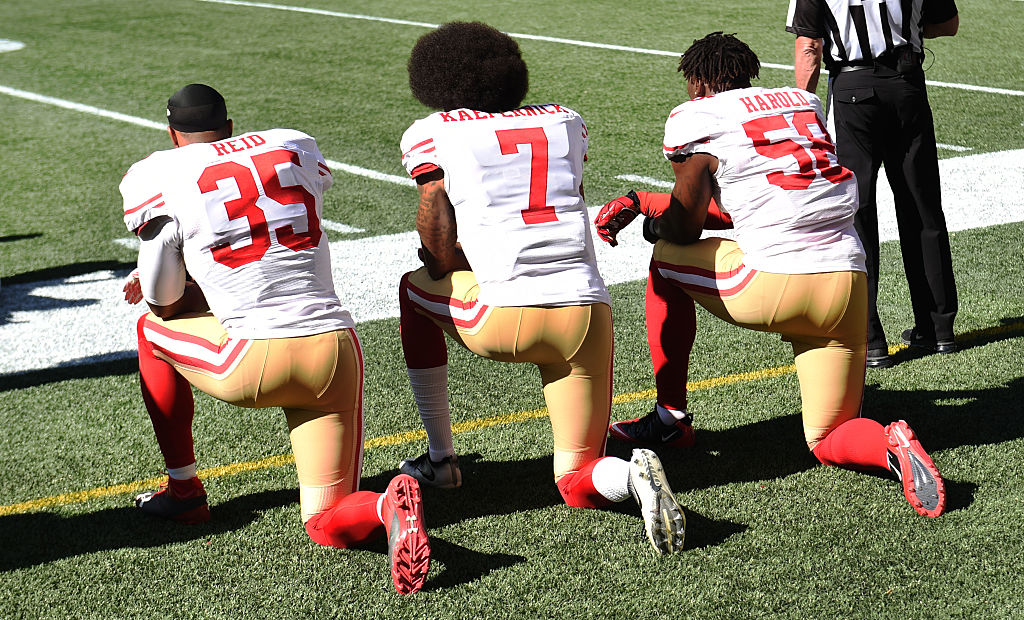 For many people, fall Sundays involve watching NFL football games. Despite scandals, cheating, players running afoul of the law, and the long-term effects of repeated head trauma, it remains the most popular sport in the United States.
More recently, scores of players have taken to kneeling during the pregame playing of the national anthem as a form of protest against social issues. Even celebrities outside the sport have joined in. And President Donald Trump has voiced his opinion, admonishing the players who knelt for the national anthem.
Now, some establishments are protesting the protests, hoping to put a small dent in the NFL's bottom line. If you're planning on going out to a restaurant to watch NFL games, you'll be out of luck at these places. First, let's quickly look at what led to all the rhetoric, and then the specific restaurants boycotting the NFL.
Getting up to speed
https://twitter.com/realDonaldTrump/status/911904261553950720
Colin Kaepernick can take credit for starting the NFL's national anthem protests. Whether he wants the credit is another issue. At the time a quarterback for the San Francisco 49ers, Kaepernick started kneeling during the playing of the anthem in 2016 as a form of protest over what he sees as racial inequality in the United States and fatal police encounters with minorities.
What started as a peaceful protest for Kaepernick quickly drew criticism. 49ers teammate Eric Reid soon joined Kaepernick in kneeling. In an essay for The New York Times about the protests, Reid writes, "It baffles me that our protest is still being misconstrued as disrespectful to the country, flag, and military personnel. We chose it because it's exactly the opposite. It has always been my understanding that the brave men and women who fought and died for our country did so to ensure that we could live in a fair and free society, which includes the right to speak out in protest." 
Needless to say, not everyone shares Reid's view. Fast-forward to 2017, and Trump fanned the flames by saying NFL players should be fired for kneeling during the anthem. Players from across the NFL recently pushed back against Trump's comments by kneeling during the national anthem. Now, the players' form of protest is leading to some businesses taking action against the NFL.
Next: These restaurants turn off NFL games.
1. Borio's Restaurant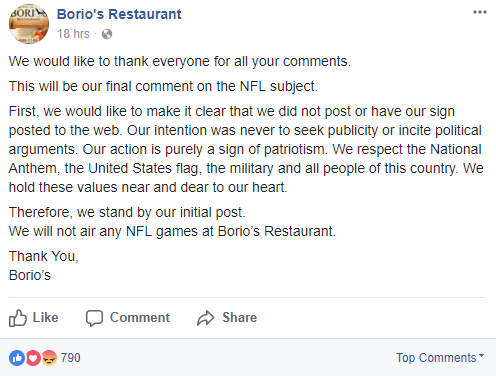 The family restaurant in Cicero, New York, on the banks of Oneida Lake will turn off NFL games as long as the protests continue. On its Facebook page, the restaurant proudly links to a CNYCentral.com article that shines the spotlight on Borio's stance. The restaurant posted a sign on the door stating, "Borio's Restaurant is thankful to be in America! Due to the recent decision of the Pittsburg Stealers [sic] team to stay in the locker room during our country's National Anthem the Borio family will no longer show NFL games in our restaurant. If and when this show of disrespect ends we will be happy to show this product on [sic] our restaurant again. America is great and we can all make decisions!"
Next: Another lakeside establishment in Upstate New York
2. Cooper's Landing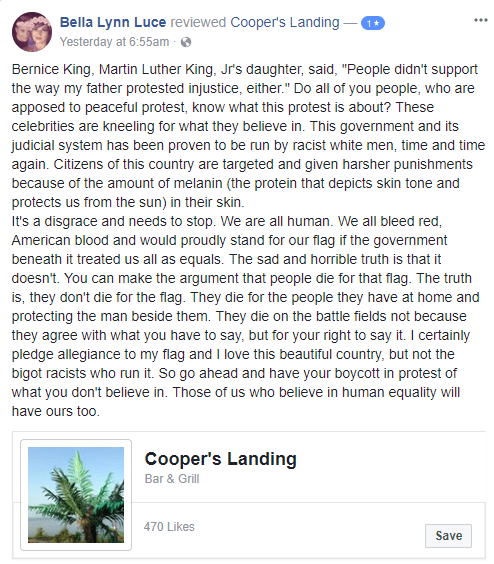 Location: Cicero, New York

Website: N/A
As reported by Syracuse.com, Cooper's Landing is joining Cicero brethren Borio's in boycotting the NFL. But will the restaurant actually follow through with it? Cooper's Landing's original Facebook post allegedly read, "So after this past weekend with the NFL, Cooper's will be joining Borio's and NOT airing the NFL games. [E]nough is enough. [I]t's time for these million dollar snowfakes to stop disrespecting the Men-Women-Dogs that signed a blank check for them to act like this. Hopefully things will change. WE will be airing Baseball-Hockey-Mud-Water & Snow sports with Specials. United We Stand." However, one Facebook page for a Cooper's Landing in Cicero does not contain that post or any recent posts from Cooper's Landing itself. Another Facebook page purported to belong to Cooper's Landing also has no mention of the NFL boycott.
Next: A South Carolina spot turns off the games.
3. Palmetto Restaurant and Ale House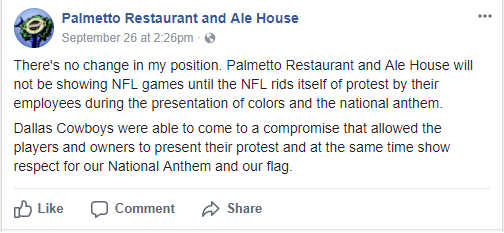 David McCraw of Palmetto Restaurant and Ale House also took to Facebook to register his displeasure with the NFL protest, posting, "Palmetto Restaurant and Ale House will not be showing NFL games until the NFL rids itself of protest by their employees during the presentation of colors and the national anthem. Dallas Cowboys were able to come to a compromise that allowed the players and owners to present their protest and at the same time show respect for our National Anthem and our flag." The restaurant also shared a link to the I Will Stand With My Country Facebook page, which donates $5 from every T-shirt sale to the Intrepid Fallen Heroes Fund.
Next: A Louisiana location joins the boycott.
4. Sarita's Grill and Cantina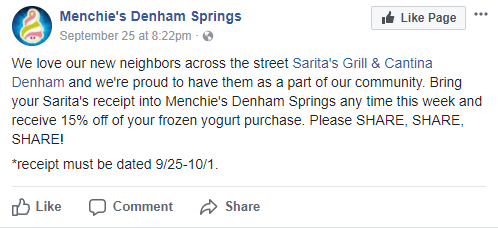 This is a restaurant with three Louisiana locations, but only the location in Denham Springs is taking a stand on the NFL protests. The restaurant posted on its Facebook page, "Until further notice, Sarita's has decided not to broadcast any future NFL games or the NFL Network. We respect everyone's right to freedom of speech; however, we do not support anyone that disrespects our Flag, our Country, and the people who have fought and/or died for the freedoms that we have." Menchie's Frozen Yogurt in Denham Springs is showing its solidarity with Sarita's, offering 15% off purchases through Oct. 1 with a Sarita's receipt.
Next: A Marine vet turns off the NFL at a Kentucky barbecue joint.
5. Smokin' This and That BBQ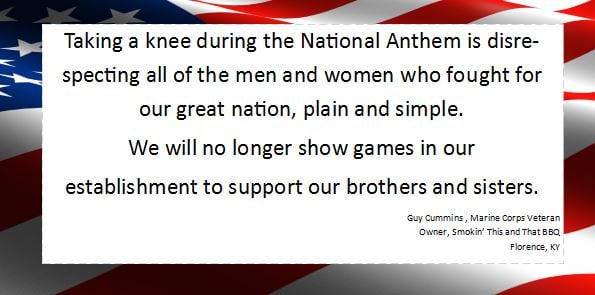 Guy Cummins, the owner of Smokin' This and That BBQ, has no patience for kneeling during the national anthem. In a statement on the restaurant's Facebook page, the Marine Corps vet posted a statement reading, "Taking a knee during the National Anthem is disrespecting all of the men and women who fought for our great nation, plain and simple. We will no longer show games in our establishment to support our brothers and sisters." Speaking to Fox 19 in Cincinnati, Cummins said, "This isn't a military thing, this isn't a race thing … isn't a Trump thing. This is just I don't believe people should take a knee to our national anthem." He has taken to using the hashtags #NoKneesInThisJoint and #MakeAStand in his Facebook posts on the subject.
Next: Will the restaurant boycotts have any effect?
Major partners remain mum
https://twitter.com/realDonaldTrump/status/911911385176723457
While local restaurant owners are taking a stand against the NFL and its players, the league's major sponsors are standing pat. It seems unlikely that the NFL's largest business partners will do anything drastic in response to the protests.
Bloomberg Politics notes some of the NFL's major corporate partners, including Anheuser-Busch InBev, Ford, McDonald's, Nike, PepsiCo, and Visa, have remained silent. Speaking with Bloomberg, Porter Bibb, managing partner of Mediatech Capital Partners, said, "Advertisers are remaining very quiet. You don't hear [about] anybody pulling their ads out of the NFL because it's a business and they have the audience."
Trump tweeted that NFL ratings are way down, in part due to the national anthem protests. But a ratings drop is most likely coincidental. Bibb told Bloomberg any dip in NFL ratings was hardly due to the protests and very unlikely to continue. "They're not way down. Last year, the NFL set a viewership record and they're on track to do that [again]," Bibb said. "They had two bad weekends between Harvey and Irma, the hurricanes that knocked out games and distracted everybody with the 24-7, all-hurricane news. … [It] was a record viewership, and you're going to see the NFL bring the advertisers and the fans right in."
Check out The Cheat Sheet on Facebook!