Retail Sales Turn Negative: Can Government Be Blamed?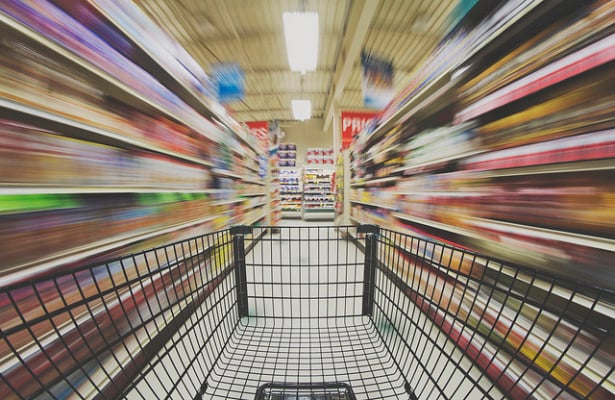 The Department of Commerce's retail sales report for September was delayed by more than two weeks thanks to the 16-day partial shutdown of the federal government. During those 16 days, consumer confidence sunk to a two-year low as Washington's brinksmanship-style of politics gave rise to fears that political dysfunction would derail the economic recovery by forcing a debt default.
"Fiscal brinksmanship in Washington is related to many of the largest weekly drops in Americans' confidence in the economy since 2008," noted Gallup's Alyssa Brown on October 8, explaining the 12-point drop in the firm's weekly reading of its Economic Confidence Index. With consumer confidence at such a low level, it was expected that sentiment would translate into consumer spending.
Indeed it might — but it is too soon to tell. Retail sales were shockingly low in September at the headline level, dipping 0.1 percent, but at the core reading showed a more positive picture of consumer spending. Excluding last month's 2.2 percent drop in automobile sales, the largest decline since October 2012, retail sales rose 0.4 percent. Furthermore, excluding automobile and gasoline sales, retail sales rose 0.4 percent. However, the 0.1 percent decline in the headline retail sales figure was the weakest reading recorded since March. But, given that sales dipped largely because of the decline in the automobile segment, September's drop is expected to be temporary. Of course, the fallout from the government shutdown will then have to be considered.
"A lot of people are going to say the government shutdown reversed the trend in consumer spending, when in fact when you look back on July, August, September, you already see a slowing or at least a topping out in spending patterns," ITG Investment Research chief economist Steve Blitz told TheStreet. "There's no question that the slowdown hurt — the second half of September was a lot slower than first half [but] you will see it in full force when the October numbers come out" on November 20.
September's automobile-driven decline is likely an isolated fact, but as Blitz's comments suggest, the consumer spending measure has not posted strong growth for months, and even excluding the month's weak car sales, September's growth was not particularly impressive. In fact, it fits in line with results from the previous two months.
August's 0.2 percent increase was the smallest gain in four months and followed an upwardly revised 0.4 July increase. "What you see here is basically the consumer just churning," the analyst added. "In a given month something is a little stronger but something else is a little weaker."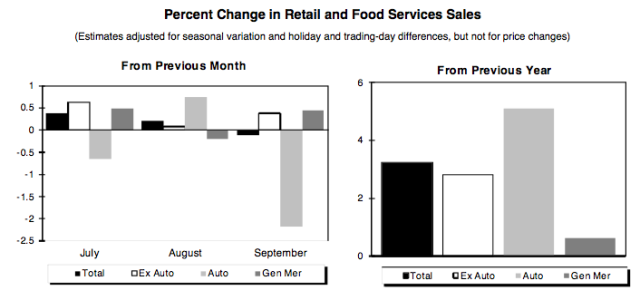 The health of the American consumer has been much debated and in Blitz's opinion, September' dip is not unexpected. "It's not so much that the consumer is falling part here as that there has been this built up expectation that the consumer is ready to just kind of bolt forward," he said. "The truth is that they're just kind of in place."
Most consumers are in no place to increase their outlays because both job growth and income growth have advanced at far too slow of a pace to support greater expenditures. "Amid tepid job creation and minimal income growth, consumers are struggling to keep their heads above water," wrote Sterne Agee Chief Economist Lindsey Piegz in a research note seen by TheStreet. Employers added an average of only 143,000 jobs per month from July through September, a decrease from the 182,000 jobs per month added from April through June and the 207,000 in the first three months of the year.
What consumers are buying is food, with sales the category of food services and drinking places as well as food and beverage stores each increasing 0.9 percent. In addition, sales at electronics and appliances stores increased 0.7 percent month over month, while health and personal care sales improved 0.4 percent and sporting goods sales rose 0.5 percent.
"We have to see better job growth, better income growth" for consumer spending to improve, Wells Fargo Securities analyst Eugenio Aleman told Bloomberg, following the Department of Commerce's August retail sales report. While pent up demand for big ticket items like homes and automobile have helped strengthen the housing market and given a small boost to retail sales in Justly and August, as long as the labor market improves only modestly and growth in incomes and wages remains relatively stagnant, as it has since the end of the recession in June 2009, many American consumers will continue to be in a difficult position.
Furthermore, if American consumers are in difficult position, so is the economy. Consumer spending accounts for approximately 70 percent of gross domestic product, and because government and business spending have remained weak, the economy is depending even more on household spending to fuel growth.
Weekly snapshots have shown that October's spending environment has been undeniably tough so far, but data from industry research firms indicated that the government shutdown derailed retail sales only modestly. For the week ended October 27, both the same-store sales index compiled by the International Council of Shopping Centers, with Goldman Sachs, and the Johnson Redbook Index contracted significantly on a monthly basis.
Last week, according to ICSC-Goldman's same-store sales index, sales at chains contracted 0.4 percent, week over week, after expanding at a 1.4 percent rate in the previous week. On a year-over-year basis, the index returned to slower growth by expanding at a 2.2 percent rate compared to the previous week's 3.2 percent expansion. The ICSC-Goldman index has been volatile in recent weeks.
Before the jump recorded in week ended October 20, the index had trended down for two consecutive weeks and the 4-week moving average has dropped to 2.1 percent, slightly lower than last month's level, which suggested that October's results could be weak. As Michael Niemira, ICSC vice president of research and chief economist, explained in the press release, "business generally was up relative to last year, but not quite as strong as the prior week."
Comparatively, Johnson Redbook Index showed mixed results in the week ended October 26. The index has expanded 3.6 percent over the past 12 months, which compares with the previous week's 2.9 percent rate of growth. However, Redbook's monthly comparison contracted at a 1.4 percent rate after contracting 1.5 percent the week before and 1.4 percent the previous week.
Follow Meghan on Twitter @MFoley_WSCS
Don't Miss: White House to Democrats: Economy Justifies Entitlement Cuts.