Retailer Announces Plan to Eliminate Toxic Chemicals in Products: Thanks, Wal-Mart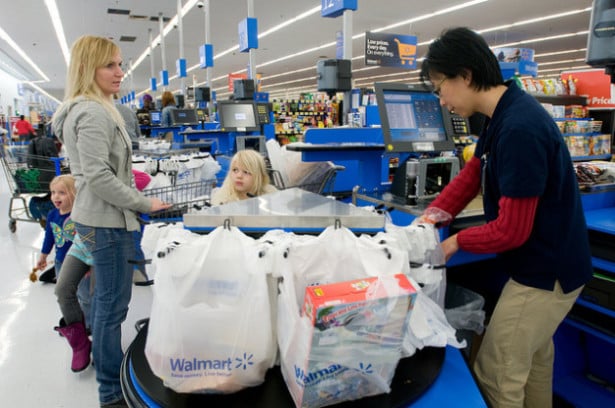 You may not want to know what chemicals are in your cosmetics, household cleaners, and personal care products, but Wal-Mart Stores (NYSE:WMT) does — and that's why the retailer is responding to health and environmental advocates' requests to eventually eliminate 10 potentially toxic chemicals from its stores' products.
According to USA Today, Wal-Mart announced its decision Thursday, assuaging many health and environmental groups that expected an unwillingness to cooperate from the retailer. Since Wal-Mart maintains such a significant presence in the retail industry, advocates believe that the company's participation in the chemical-elimination effort will help pressure and encourage other retailers to follow suit.
Although Wal-Mart was unwilling to identify the chemicals it is now working to eliminate in its products on Thursday, the Bentonville, Arkansas-based company promised in its announcement to begin phasing out 10 hazardous chemicals and monitoring that progress in January, also applying the same new stardards for its own brand of cleaning products. The retailer doesn't plan on cutting off suppliers, but it does expect them to be cooperative in Wal-Mart's effort to apply the Environmental Protection Agency's Design for the Environment label to all of its products.
As USA Today highlights, the nation's largest retailer certainly isn't the first major company to take steps to break away from the toxic chemicals that are becoming increasingly more present in everyday consumer products. Procter & Gamble (NYSE:PG) has already made headlines making efforts to eliminate certain chemicals from its products, and so too has Johnson & Johnson (NYSE:JNJ), which promised to not only remove phthalates and antibacterial triclosan from its goods, but also formaldehyde and parabens.
Large-scale retailers such as Wal-Mart, Costco (NASDAQ:COST), and Target (NYSE:TGT) have long been hounded by health and environmental groups to join in the shift away from toxic chemicals, but while many have made small-scale concessions, Wal-Mart is the first to announce a substancial plan to eventually rid all products of these 10 potentially harmful chemicals.
It won't be immediate. USA Today reports that Wal-Mart won't require suppliers to disclose their ingredients online for items sold at stores until 2015, but it is at least a work in progress. Furthermore, we'll even score a window into that progress in January 2016 when Wal-Mart promises to release a progress report.
As aforementioned, environmental groups are pleased with the advances they are making to alert companies and consumers about the presence of these toxic chemicals, but the federal government has still expressed an unwillingness to comply to the advocates' requests, and the report illuminates that the U.S. Toxic Control Substances Act hasn't seen significant updates since its passage in 1976.
Don't Miss: Wal-Mart, Target Don't Like This Credit Card Fee Settlement.