Retailers Prepare for Jingle Hell: Short Holiday Shopping Period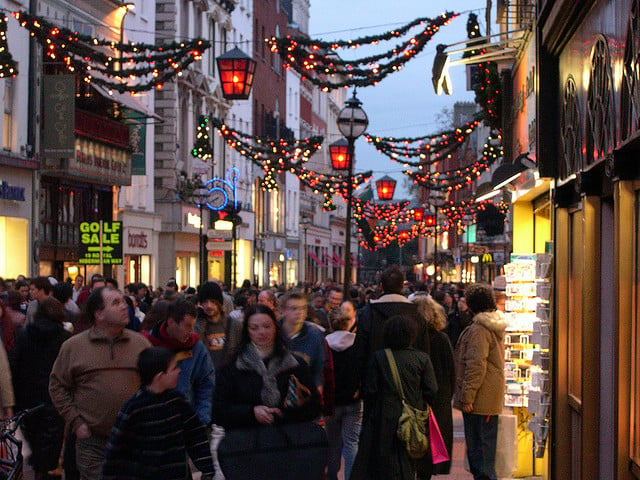 Holiday shopping: a sprint or a marathon? Unfortunately for retailers this year, it's both. It's no secret that U.S. retailers depend largely on their holiday sales to boost their revenues. Studies report that the shopping season usually generates 30 percent of annual sales, and companies do all they can to take advantage. However, this year, a shortened shopping period coupled with a slowing economy has retailers worried that the season won't be as lucrative as periods past, and now they're bringing out the big guns to make sure that doesn't happen.
If you're wondering how a shopping season can possibly be shorter, take a look at the calendar and see where Thanksgiving falls this year. It's a late turkey day, and those craving celebration aren't the only ones who are suffering; retailers are too. That's because the shopping season doesn't officially kick off until Black Friday, meaning companies have to wait six extra days to lure consumers in with their best deals. Reuters highlighted this retail headache in its report Monday, and used it to help explain why companies are now preparing in advance for their shortest holiday shopping season in a decade.
Different retailers are fighting back in a number of ways. One for example, is already planning on offering Sunday shipping this season in select areas, at no extra cost. Amazon (NASDAQ:AMZN) announced Monday that it has partnered with the U.S. Postal Service to begin delivering packages on Sundays, and this initiative will benefit those in New York and Los Angeles areas. The retail giant will expand the service to other cities across the country in 2014, but for now, it is focusing on its biggest markets for the holiday season, and those on the coasts are ready to take advantage.
What else? Well, luckily for Amazon, it already has an incredibly strong website to fall back on, but other retailers like Wal-Mart (NYSE:WMT) and Target (NYSE:TGT) aren't so lucky and are now bolstering their online offerings so as to better appeal to online shoppers. Also, just in case anyone gets snowed in this holiday season, Wal-Mart and Target want to be able to effectively service the consumers via the Internet.
According to Reuters, both retailers have been testing their websites to ensure they can support the extra pressure that comes during the shopping period, but Wal-Mart already suffered one issue last week when a technical glitch led to exorbitantly low prices. The snafu only lasted a couple of hours, but the company, along with Target, still needs to prove that it can compete in the e-retail sphere with one of their fiercest competitors, Amazon. This year, e-commerce is expected to be greater than ever, and Reuters says that it will account for at least 12 to 13 percent of holiday sales, up from 11 percent last season.
J.C. Penney (NYSE:JCP), Sony (NYSE:SNE), and GameStop (NYSE:GME) have also been highlighted to be bolstering their online and brick-and-mortar efforts, and each are under pressure to benefit from holiday sales growth even those the period is a shorter, more intense one.
It is thus clear that retailers are feeling the pinch. However, add on the reality of a struggling U.S. economy and things get even gloomier. Reuters points out that sales forecasts for this year's retail season are some of the least optimistic ever and ShopperTrak forecasted back in September that sales will only rise 2.4 percent in November and December this year, compared to 3 percent in 2012, 4 percent in 2011, and 3.8 percent in 2010.
Companies will nonetheless continue to work with the hand they've been dealt this holiday season, and many are even kicking off the party early, opening on Thanksgiving.
Don't Miss: Xbox One Versus PlayStation 4: Too Close to Call?