Reuters Kills Off This Legendary Investor — By Mistake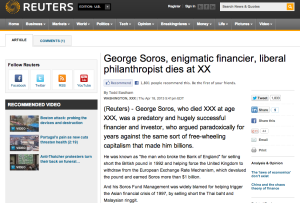 In what is turning out to be a less-than-stellar week for U.S. journalists, international newswire Reuters sent out an obituary of investor George Soros on Thursday evening, even though Mr. Soros is still alive.
A message on the official Twitter feed of Reuters read: "Reuters published an obituary of George Soros in error. Reuters withdrew the article as soon as it appeared." But nothing on the Internet gets swept away, and within a few minutes, a copy of the story was widely sent around and comments mocking it had multiplied.
Soros, is the 82-year-old chairman of Soros Fund Management and one of the richest billionaires in the world. The Reuters story noted how he is considered to have made more than a billion dollars by speculating on the pound in 1992 and was responsible for triggering the 1997 Asian financial crisis, a fact contested by Soros.
Acacia Research (NASDAQ:ACTG), Shutterfly (NASDAQ:SFLY), and US Airways (NYSE:LCC) are among the investor's picks for success, based on regulatory filings analyzed by MarketWatch…
What Reuters had published is ordinarily considered an obituary template, a practice followed by media organizations to enable them to be the first ones to release in-depth stories when someone famous dies. In 2008, Bloomberg News published a premature obituary of former Apple (NASDAQ:AAPL) CEO Steve Jobs. Jobs actually died on October 5, 2011, and has been succeeded by Tim Cook at the top of the company.
Earlier this week, in a rush to be the first ones to report a developing news story, the New York Post said that 12 people died in the Boston Marathon attack, and two days later, CNN and the Associated Press reported that arrests had been made in the case, only to retract their reports later.