Revealed: GameStop Holiday Sales Results
The following is an excerpt from a report compiled by Michael Pachter of Wedbush Securities.
Before the market open on Tuesday,  GameStop (NYSE:GME) reported holiday sales results (9-week period ending December 29) well below our expectations. Comps were down 4.4% (3.5% domestic, 6.4% int.'l),  below our expectation of positive 0.9% and within Q4 guidance of down 7.0% to up 1.0%. Total sales were down 4.6% as declining store traffic offset solid Wii U sales (320,000 HW units sold). Margin contribution from digital (up over 40%) and lower promotional activity offset a shortfall in used sales (down 15.6%).  New SW sales were down 5.1% and new HW sales were down 2.7%.
Comps guidance narrowed towards low-end of the range. GameStop adjusted comps guidance for Q4 to down 7.0 – 4.0% from down 7.0% to up 1.0%, and for FY:12 to down 9.0 – 7.5% from down 9.0 – 6.0%.
GameStop maintained its Q4 EPS guidance range despite sluggish demand for high-margin used products. Q4 EPS is expected to come in at the low end of the range of $2.07 – 2.27 even though used sales were down almost $100 million y-o-y (representing an estimated EPS hit of almost $0.25 alone). This reflects strong financial discipline (less promotional activity as it refused to sacrifice margin) and the positive impact of repurchases ($11.7 million of stock, or 458,000 shares for an average price of $25.51 over the holiday period). At the low end of guidance, Q4 EPS still represents 20% growth over its most profitable quarter ever.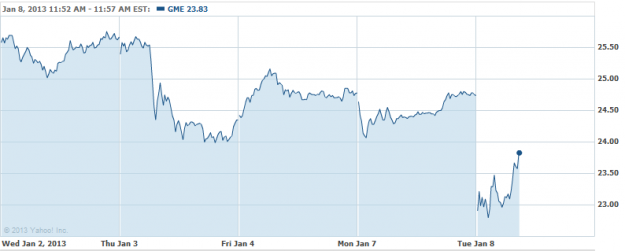 Save time and make money with our LOWEST ADVERTISED PRICE EVER to help you achieve your financial goals in 2013. This is a LIMITED TIME OFFER, so get your Stock Picker Newsletter now!
Lowering our Q4:12 estimates, but maintaining FY:13 estimates. Lowering our FY:12 estimates for revenue to $8.75 billion from $8.92 billion, for comps to down 7.6% from down 5.6%, and for EPS to $3.12 from $3.25. Maintaining FY:13estimates for revenue of $9.30 billion and for EPS of $3.50.
Our FY:13 EPS estimate, which represents 12% y-o-y  growth, may be too conservative. Share repurchases and a much stronger game lineup (Q1 releases expected to include  BioShock Infinite, Crysis 3,  Dead Space 3,  Gears of War: Judgment, with Grand Theft Auto V in Q2) should drive EPS growth. New consoles are expected from Sony (late 2013) and Microsoft (NASDAQ:MSFT) (YE 2013 or early 2014).
Maintaining our OUTPERFORM rating and our 12-month price target of $33, which reflects a multiple of 9x our FY:13 EPS estimate of $3.50. Our price target reflects GameStop's strong revenue and earnings growth potential from continued market share gains, digital growth, and its repurchase program.
Michael Pachter is an analyst at Wedbush Securities. 
nvesting Insights: Should You Jump On the EMC Bandwagon?