Revised GDP Figures Give Economists a Shock
Unexpectedly, gross domestic product was revised downwardly by the Department of Commerce on Wednesday.
It is not uncommon for the government to revise its GDP figures several times, but economists were not expecting a dramatic change. An earlier estimate put economic activity at a 2.4 percent annual rate for the first three months of the year, with analysts noting that the United States economy had definitely begun to feel the effects of austerity. But this revision suggests that cuts to government spending held back growth even more than initially expected during the first quarter. The previous figure was lowered to a 1.8 percent annual rate.
"This was certainly unexpected and, I believe, rare," BMO Capital Markets economist Jennifer Lee told CNN Money. Judging from reasonably stable employment, housing, and consumer sentiment data, analysts had expected that GDP would remain much more in line with the earlier estimate.
Even with austerity measure in place, economic growth has been fairly resilient so far this year, helped by the Federal Reserve's low interest rate policies. Comparatively, in the fourth quarter of 2012, GDP came in at just 0.4 percent. Still, most economists believe that growth will continue to slow through the middle of the year as budget cuts come into effect.
Growth was hurt as spending across all levels of government slowed. Washington has tightened its fiscal belt several notches in the past several years. However, in 2013, the federal government significant increased austerity measures, hiking payroll taxes in January and slashing the federal budget in March. In total, government spending decreased 8.7 percent in the first quarter, compared to the 14.8 percent decrease recorded in the previous three-month period. By far, government spending was the largest drag on economic growth.
Economists knew government spending would decline in the first quarter, what was surprising were the revisions to consumer spending, exports, and commercial real estate, changes that were primarily responsible for the weaker GDP figure.
Consumer spending, which accounts for about 70 percent of the GDP measure, increased at just a 2.6 percent annualized pace in the first quarter, according to revised figures, down from the previously reported 3.4 percent pace. Meanwhile, spending on nonresidential buildings dropped 8.3 percent in the first quarter, offsetting some of the economic gains made from the ongoing housing recovery.
Now, economists have focused their attention on studying how the economy fared in the second quarter. Their estimates suggest that growth will remain slow; analysts at Goldman Sachs and Barclays estimate that the economy grew at a 1.5 percent to 1.9 percent annual pace between April and June.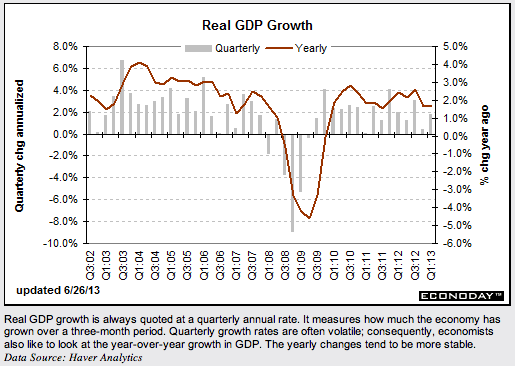 Here is how the major U.S. indexes traded on Wednesday: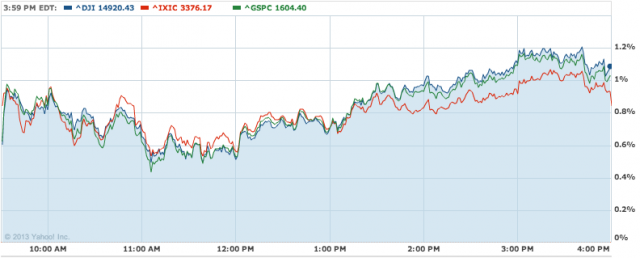 Follow Meghan on Twitter @MFoley_WSCS
Don't Miss: 7 Facts to Know How Americans Save for the Future.