Rich Dad, Poor Dad: Ben Bernanke Admits Economic Recovery is One-Sided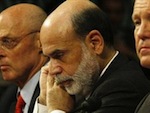 Last week in a speech in Washington, Federal Reserve Chairman Ben Bernanke said that assisting low-income neighborhoods requires a multiprong approach that focuses not only on housing but also on education, jobs, and healthcare.
The Fed Reserve Chairman noted that the "low-income communities were particularly hard hit by the Great Recession," and even though employment and housing has started to improve, the conditions in these lower income neighborhoods are still challenging.
Research from the Minneapolis Federal Research shows that the financial crisis pushed down earnings among low-income  households. The study said that "Earnings among the bottom 20 percent of U.S. wage and salaried workers fell by about 30 percent during the downturn compared with the median income, as workers lost their jobs or left the labor market." Researchers Fabrizio Perri and Joseph Steinberg said that the bottom 20 percent of the U.S. has never done so bad as earnings for that group fell 30 percent as opposed to the median during that time.
The financial markets, including the Dow, S&P 500, and Nasdaq, hit their lowest levels during the financial crisis. Although the recovery has been long, the markets are doing well even if low-income communities are not doing so well. For instance, the Dow Jones has not only regained all the ground lost during the financial crisis, but it has also reached new highs. The S&P 500 has also fully recovered and surpassed previous highs.  The Nasdaq has also recovered from the financial crisis, although it has not reached the level of success of the S&P 500 and the Dow.
Bernanke gave a number of examples where successful community redevelopment was achieved as a result of the participation of community centers, friends, neighbors, and store owners. This is an example of the efforts to address the problems faced by low-income Americans. The Federal Open Market Committee also plans to reduce employment, which is at 7.6 percent. Their strategies include a new round of quantitative easing.
Payrolls grew by 88,000 last month, which was the smallest increase since June, according to the Labor Department. Furthermore, the average hourly earnings were unchanged from March, which is the weakest showing since last October. Thus, even though recovery is underway, many low-income individuals are being left behind. As Bernanke has admitted, the economic recovery is truly not equal.
Don't Miss: U.S. GDP Growth: The Bulls and Bears Can't Both Be Right.