RIM Gets a Name Change and 4 Hot Stocks Changing Hands Today
Redbox (NASDAQ:CSTR): Current Price $51.44
Flextronics Americas LLC, which manufactures Redbox (NASDAQ:CSTR) movie kiosk machines, is planning to shut down its Creedmoor assembly plant and layoff the 157 employees at the plant by end February. The development follows after Redbox changed its focus to online video streaming and decided to start a $6 per month service in conjunction with Verizon Communications (NYSE:VZ).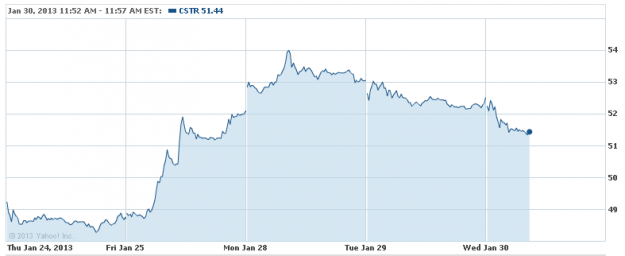 Ruth's Hospitality Group (NASDAQ:RUTH): Current Price $7.72
Ruth's Hospitality Group (NASDAQ:RUTH) announced its agreement with Ko China Hospitality Ltd to set up four new Ruth's Chris Steak House locations in Shanghai and Beijing, China, over the next three years. Ko China is a subsidiary of Hasmore Limited, a long-standing franchisee for Ruth's. "We are very pleased to continue our relationship with Hasmore Limited to develop and grow our brand's regional footprint in Asia," said Michael P. O'Donnell, Chairman, President and Chief Executive Officer of Ruth's Hospitality Group, Inc. "This significant development builds upon our partnership's success in Japan, Hong Kong, Taiwan and Singapore, and we look forward to debuting the Ruth's Chris experience to new guests in China this year."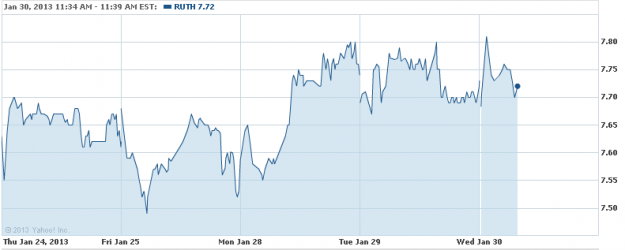 Are these stocks a buy or sell? Let us help you decide. Check out our Stock Picker Newsletter now.
United Bankshares Inc (NASDAQ:UBSI): Current Price $25.02
United Bankshares Inc (NASDAQ:UBSI) announced its agreement to acquire Virginia Commerce Bancorp Inc (NASDAQ:VCBI) for about $490.6 million in an all stock deal. The exchange ratio would be 0.5442 of United's shares for each share of VCBI. This equates to a deal value of about $14 per share, which is a premium of 15% over VCBI's closing price on January 29. The deal will allow United to expand its presence in the Washington DC Metropolitan Statistical Area, giving it the #8 deposit market share position.

Royal Bank of Scotland Group Plc (NYSE:RBS): Current Price $11.06
According to a report in the Financial Times, Royal Bank of Scotland Group Plc (NYSE:RBS) has decided to dissolve its Mergers and Acquisition business after it failed to find a buyer for the business. John McIntyre, who led the unit, is leaving RBS this week, says the FT.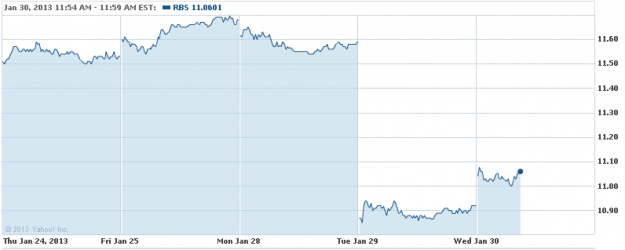 Research in Motion (NASDAQ:RIMM): Current Price $14.40
Research in Motion (NASDAQ:RIMM) CEO Thorstein Heins reveals at today's BlackBerry 10 event that the company would henceforth be known as BlackBerry. Its new stock symbols will reflect the change: it will now be listed on NASDAQ as BBRY and on the Toronto exchange as BB. Heins emphasises the rebranding of the company saying, "We have reinvented the company and we want to represent this in our brand."

Investing Insights: Is AOL's Stock Undervalued?