RIM Launches Less Expensive BlackBerry and 2 Other Hot Stocks to Watch
BlackBerry (NASDAQ:BBRY): Current price $15.18
On Tuesday, Research In Motion Chief Executive Thorsten Heins unwrapped a lower-end BlackBerry which was created to lure consumers in emerging markets as the firm ramps up its endeavors to get back its market share lost to the iPhone and Android devices. Heins announced that the Q5 product will be available globally this summer. The Q5 will mark RIM's third smartphone to be driven by the new BlackBerry 10 system, and will sport a physical keyboard, which is something that distinguishes the company's devices Apple's iPhone and the majority of Android phones. The CEO added that the "slim, sleek" device will be available in red, black, white, and pink, commenting, "I know it's going to be a big hit. I think you're really gonna like it."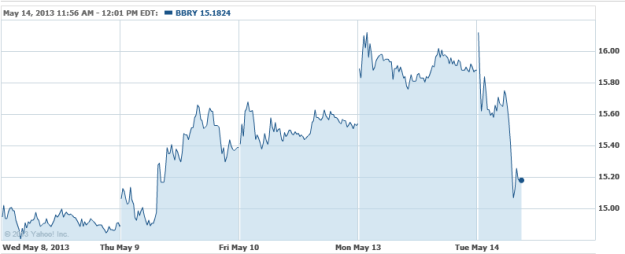 Microsoft Corporation (NASDAQ:MSFT): Current price $33.12
In a surprising move, Microsoft's Outlook.com is allowing users of its free email service the choice of logging into Google Chat so as to exchange instant messages and participate in audio or video conversations. This new link, announced on Tuesday, marks an alliance of sorts during the typically contentious relationship between the two tech giants. Microsoft is rationalizing its use of Google Chat as an example of how it wants to connect people who depend on an array of services to interact with each another. Offering Outlook.com and Google Chat for free is a method through which Microsoft and Google may attract more online traffic to its advertising-supported services.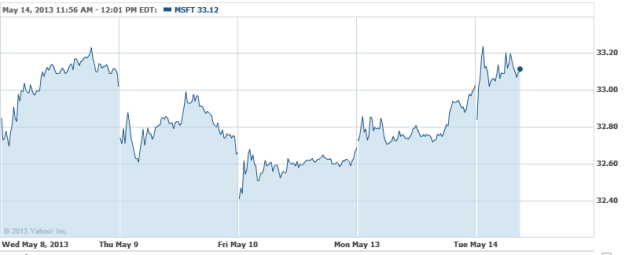 Frontier Communications (NYSE:FTR): Current price $4.25
The company said Tuesday that its Frontier Secure suite of services won the F-Secure Excellence Award on May 7 at the Seventh Annual SPECIES Conference in Stockholm. SPECIES is an executive global event for F-Secure's Service Provider Partners, and was created to permit the sharing of best practices in selling, promoting, and customer activation of F-Secure Value Added Services. The Excellence Award honors effort, imagination, and success exhibited by F-Secure's worldwide partners in marketing Internet Security and Cloud solutions. Frontier Secure was chosen by a committee out of a dozen finalists. The first prize won by Frontier Secure came with marketing funds totaling $32,500.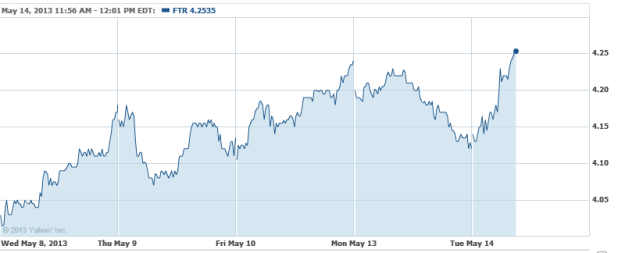 Investing Insights: Does TiVo Support Higher Prices?