RIM Poised for Official Name Change to BlackBerry and 2 More Heavily Traded Stocks to Follow
Research In Motion Ltd. (NASDAQ:BBRY): Current price $9.65
The Canadian firm Research In Motion has won official approval to change its name to BlackBerry, having announced intentions for the name change in January, when it debuted new phones running the revamped operating system BlackBerry 10. The company hopes that the new devices will be better at rivaling iPhones and Android devices. Since January, Research In Motion has been going by BlackBerry in marketing materials, and also changed its ticker symbol to BBRY. However, there exists one more hurdle: A legal name change needs shareholder approval at Tuesday's annual meeting.

Ford Motor Co. (NYSE:F): Current price $16.82
The Ford F-250 pickup now has the dubious honor of being the favorite target of car thieves in the United States, a new report says. It replaces the Cadillac Escalade, which topped the theft rankings for almost a decade. The latter fell No. 6 in the yearly survey by the Highway Loss Data Institute, which also discovered that Cadillac's parent company, General Motors Co. (NYSE:GM), still held eight of the top 10 spots in theft claims.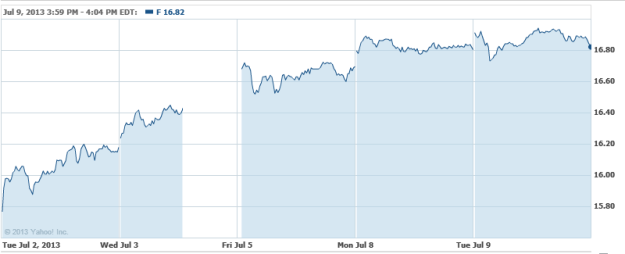 Oracle Corp. (NASDAQ:ORCL): Current price $31.55
In its first dollar-denominated offering in 2013, Oracle will sell $3 billion worth of fixed- and floating-rate securities, sources told Bloomberg. The producer of database software is selling 5.5-year debt split between $500 million of floating-rate bonds that yield 58 basis points more than the three-month Libor and $1.5 billion of fixed-rate securities at 95 basis points more than similar-maturity Treasuries, the source said.