Rio Tinto's Landslide Fallout and 4 Other Hot Stocks
Johnson & Johnson (NYSE:JNJ): The health and beauty product manufacturer has reported a strong first quarter, with sales clocking in at $17.5 billion, 8.5 percent over the first quarter of 2012. Excluding special items, first quarter earnings per share landed at $1.22; with special items, earnings per share of $1.44 broke 5 percent over the earnings in the first quarter of last year. Overall domestic sales rose 11.2 percent, while international sales were also up, by 9.8 percent. Johnson & Johnson confirmed its earnings guidance for full-year 2013 to $5.35 to $5.45 per share.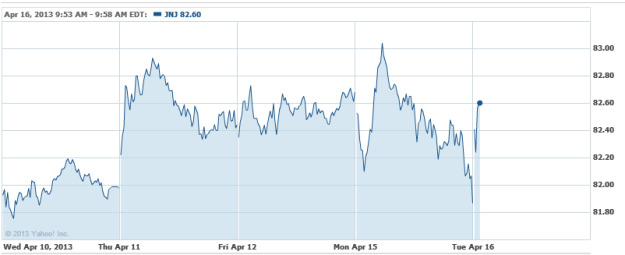 Goldman Sachs (NYSE:GS): Wall Street banks have so far offered strong first-quarter results, and Goldman is no exception. The company posted a quarterly revenue of $10.09 billion, $0.49 billion over estimates. The earnings per share of $4.29 beat estimates by $0.43, and investment banking revenues topped at $1.57 billion, up 36 percent, year over year.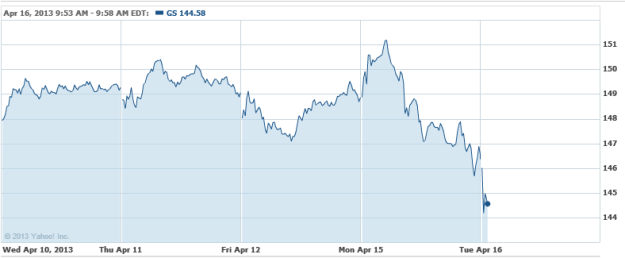 Rio Tinto (NYSE:RIO): Following a stock slide across the board for mining companies on Monday, the industry is showing a little bit of rebound in the markets. However, Rio Tinto has reported that its 2013 refined copper production may be cut by as much as 100,000 tons, following a landslide from its Bingham Canyon mine in Utah. The company's concentrator has been shut down entirely, while the smelter and refinery are operating at reduced levels.

Target (NYSE:TGT): Target has issued a warning on its first quarter sales performance, though it was hardly met with surprise given the initial slow start that the season had due to weather-related slumps. The retail chain expects its first quarter earnings to be slightly below its prior estimates, but reiterated its full year guidance. The first quarter results are due on May 22nd. Fellow retail giant Wal-Mart (NYSE:WMT) likely has a similar story, after slogging through the first couple of months with less than impressive sales, and more sporadic patterns as of late.

Don't Miss: Exxon's CEO Rakes in the Cash Money.