Rio's Global Selling Spree and 4 Other Hot Stocks
Online video streaming company Netflix (NASDAQ:NFLX) is up over 3 percent at $171.17 as the stock reacts to Goldman's approving nod for the company's prospects from increased distribution, an expanded content inventory and growing international presence. Goldman boosted their price target on Netflix from $125 to $184 but kept a Neutral rating unchanged. With content being distributed across an increasingly diverse range of devices, analyst Heath Terry wants to shift analysis emphasis to the number of "connected consumers" as opposed to "households." Netflix' streaming service and new devices could play a major role in subscriber grab, which Terry predicts could rise to 53 million users from currently 23 million in the next five years. Smart TV consumers, already connected to the Internet, are the most likely to buy a streaming subscription.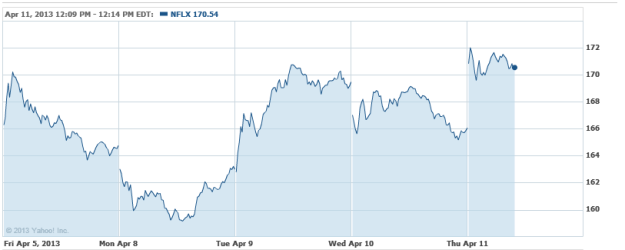 Sony Corp (NYSE:SNE), unfazed by continuing loss of TV market share to Samsung,  is determined to turn the corner in its TV manufacturing business as well as surpass the target of selling 13.5 million units set for the last fiscal year ended March, according to Masashi Imamura, a senior vice president in charge of home entertainment products. "Major operational reform at the unit is over," he said. "We will continue to make efforts to trim costs this fiscal year. We have reduced the costs we had planned to reduce in fiscal 2012, and that will help us make the business profitable."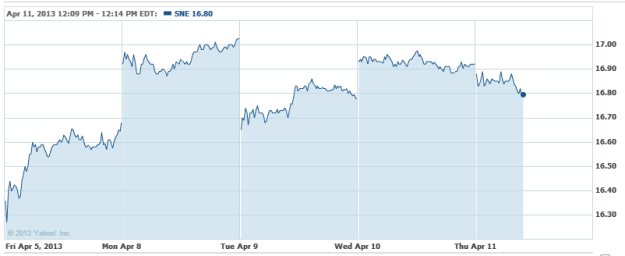 Rio Tinto (NYSE:RIO) is on a global spree , selling non-core assets to raise cash and focus only on large-sized, high quality assets that have the advantage of scale.  Citigroup (NYSE:C) has been appointed to implement the sale of a 57 percent stake in copper-and-gold miner Ivanhoe Australia held by Rio's Turquoise Hill Resources Ltd (NYSE:TRQ) unit. Falling commodity prices are likely to depress the amount Rio could raise from these disposals — Ivanhoe itself was valued at $1.5 billion in early 2011 but is currently valued a meager $148.7 million. Other potential assets on the block include a stake in SouthGobi Resources Ltd, a Mongolian coal miner, and a stake in Iron Ore Company of Canada.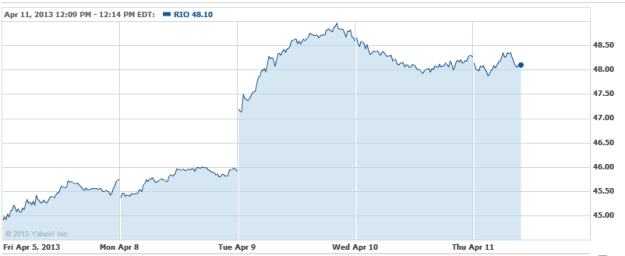 Pier 1 Imports (NYSE:PIR) reports fourth quarter EPS of $0.60 which is in line with consensus expectations. Revenue of $551.6 million surpasses forecasts by $0.16 million.  Quarterly comparable sales were higher by 7.9 percent. For the full year sales were up 11.2 percent to $1.705 billion while comparable store sales grew 7.5 percent. "Fiscal 2013 was another outstanding year for Pier 1 Imports," said Alex W. Smith, President and Chief Executive Officer. "We delivered our fourteenth consecutive quarter of significant sales and profit growth, re-introduced our dividend and repurchased $100 million of Pier 1 Imports stock, returning substantial value to our shareholders. At the same time, we launched our e-Commerce enabled website, established a platform to support our multi-channel strategy and commenced a pilot of our new POS system."

Don't Miss: Samsung Still Trails Apple In This Crucial Demographic.