Rising Home Prices Suggest Broad Housing Market Recovery
"The two headline composites posted their highest year-over-year increases since summer 2006," said David Blitzer, Chairman of the Index Committee at S&P Dow Jones Indices, in a statement on Tuesday. "This marks the highest increase since the housing bubble burst."
The S&P/Case-Shiller Home Price Indices showed that for the twelve months ended January 2013, home prices increased 7.3 percent in the 10-City Composite and 8.1 percent in the 20-City Composite. What's more, 19 out of 20 cities showed acceleration in year-over-year returns, Detroit being the only city to grow at a slower rate than before.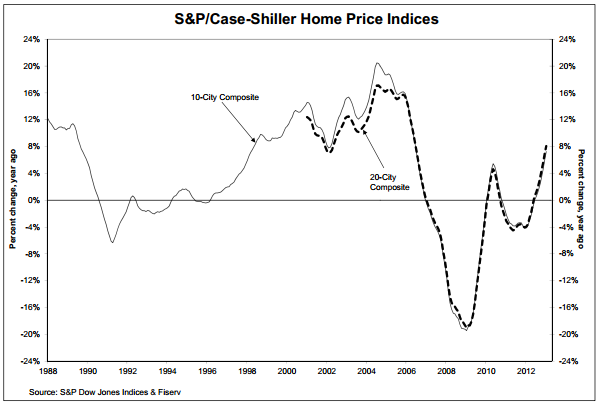 "Economic data continues to support the housing recovery," continued Blitzer. "Single-family home building permits and housing starts posted double-digit year-over-year increases in February 2013. Despite a slight uptick in foreclosure filings, numbers are still down 25 percent year-over-year. Steady employment and low borrowing rates pushed inventories down to their lowest post-recession levels."
Here's how the 3 major stock indices finished out the day on Tuesday: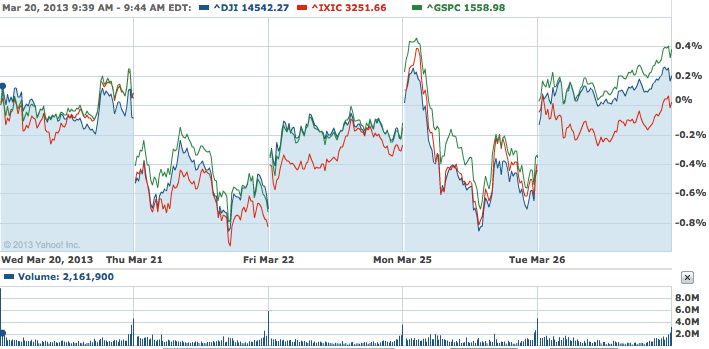 Don't Miss: The Fed: We Have to Keep Printing Because of Congress.