Rite Aid Corp Earnings Cheat Sheet: Margins Shrink as Costs Rise
Rite Aid Corporation's (NYSE:RAD) first quarter loss narrowed, beating estimates. Rite Aid Corporation operates a retail drugstore chain in the United States. It operates its drugstores in 31 states across the country and in the District of Columbia.
Don't Miss: Wall St. Cheat Sheet's newest Feature Trades of the Month!
Rite Aid Earnings Cheat Sheet for the First Quarter
Results: Loss narrowed to $63.1 million (loss of 7 cents/diluted share) from $73.7 million (loss of 9 cents/share) in the same quarter a year earlier.
Revenue: Remained constant at $6.39 billion.
Actual vs. Wall St. Expectations: RAD beat the mean analyst estimate of a loss of 12 cents/share. Estimates ranged from a loss of 6 cents per share to a loss of 16 cents per share. Analysts were expecting revenue of $6.36 billion.
Quoting Management: "We are pleased with the continued improvement in our results. We increased Adjusted EBITDA as we again grew same store sales and further reduced operating costs," said John Standley, Rite Aid president and CEO. "Our sales initiatives continued to gain traction with the number of members enrolled in our wellness+ customer loyalty program reaching nearly 40 million. Prescriptions filled in comparable stores increased as customers took advantage of our new pharmacy programs."
Key Stats:
Gross margin shrunk 0.3 percentage point to 26.5%. The contraction appeared to be driven by rising costs as the figure rose 0.4% from the year earlier quarter while revenue fell 0.1%.
The company topped expectations last quarter after falling short of forecasts in the fourth quarter of the last fiscal year with a loss of 24 cents versus a mean estimate of a loss of 21 cents per share.
Over the last five quarters, revenue has fallen an average of 1.4% year over year. The biggest drop came in the second quarter of the last fiscal year, when revenue fell 2.5% from the year earlier quarter.
Competitors to Watch: Walgreen Company (NYSE:WAG), PetMed Express, Inc. (NASDAQ:PETS), Wal-Mart (NYSE:WMT), Target (NYSE:TGT), CVS Caremark Corporation (NYSE:CVS) and China Nepstar Chain Drugstore Ltd. (NYSE:NPD).
Stock Performance: Shares of RAD are up over 3.5% today.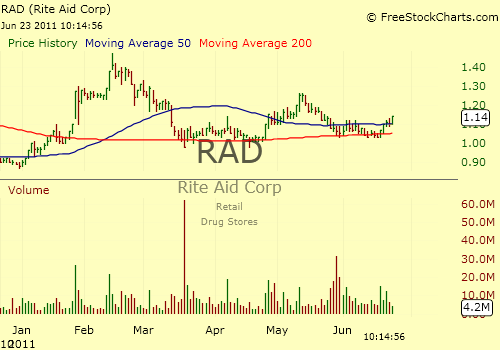 Don't Miss Wall St. Cheat Sheet's newest Feature Trades of the Month!
(Source: Xignite Financials)