Rite Aid Is On a Roll and 2 Other Heavily Traded Stocks
Rite Aid Corp. (NYSE:RAD): Closing price $2.12
Rite Aid posts its second consecutive quarterly profit and first yearly profit in six years, as generic drugs, a rise in prescriptions and a drop in some expenses helped the drugstore chain. Shares jumped almost 19 percent, or 34 cents, to hit a new 52-week high price of $2.13 on Thursday after results were reported. Rite Aid said that it earned $124.4 million, or 13 cents per share, in its fiscal fourth quarter which ended March 2nd, which compares with a loss of $163.8 million, or 18 cents per share, year-over-year.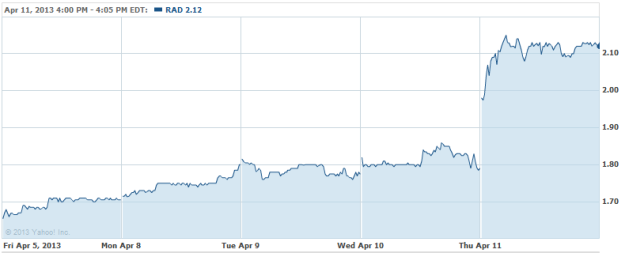 BlackBerry (NASDAQ:BBRY): Closing price $13.56
Shares slid around 8 percent on Thursday, while analysts wondered if the handset maker's turnaround plan would be successful in the brutally competitive smartphone market. The discounting of the Z10, its recent handset meant to rival the Apple (NASDAQ:AAPL) iPhone and Samsung's  (SSNLF) Galaxy line, has also raised eyebrow, according to one trader, said Reuters. BlackBerry debuted its latest handsets based on its much delayed BlackBerry 10 operating system in January, but they began selling in the United States only in March. Investors have not been convinced about the firm's prospects of regaining its lost glory and regaining market share in the domestic market, leading the stock to shed a quarter of its value since hitting a 52-week high in January.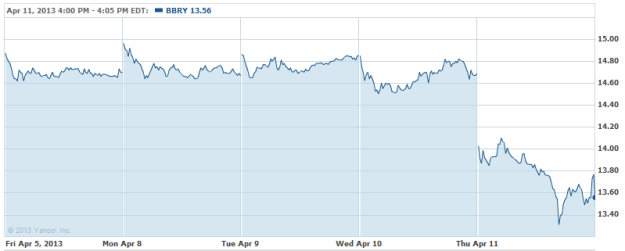 Microsoft Corporation (NASDAQ:MSFT): Closing price $28.98
Microsoft might soon be rolling out its own 7-inch tablet. The Wall Street Journal is reporting that the company plans to introduce a smaller version of its Surface tablet later in 2013. Unnamed sources said that making a small tablet was not an original part of Microsoft's strategy, but that it is looking to adapt to a changing market. When the firm debut its first tablet, the 10.6-inch screen Surface RT, in October, Apple, Google (NASDAQ:GOOG), and Amazon.com (NASDAQ:AMZN) were pushing out much smaller tablet computers. Apple released the 7.9-inch iPad mini, Google launched the 7-inch Nexus 7 and Amazon updated its 7-inch Kindle Fire tablet with an HD version.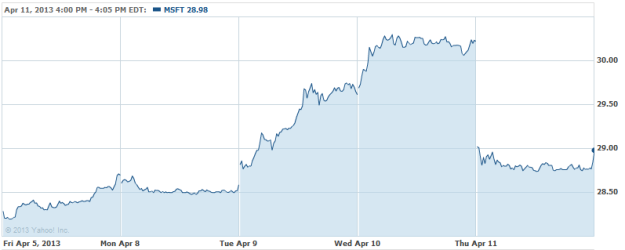 Don't Miss: BlackBerry Can't Catch a Break.