Rite Aid Pharmacies Impacted By Generic Drugs and 2 Other Hot Stocks To Watch
Rite Aid Corp. (NYSE:RAD): Current price $2.70
Rite Aid reports that revenue from its established stores edged up by less than 1 percent in June while generic drugs continued to press results at its pharmacies and sales from the front-end came in almost flat. Pharmacy revenue from stores open at least a year increased slightly by 0.9 percent and front-end sales rose by 0.4 percent, making the overall increase 0.7 percent.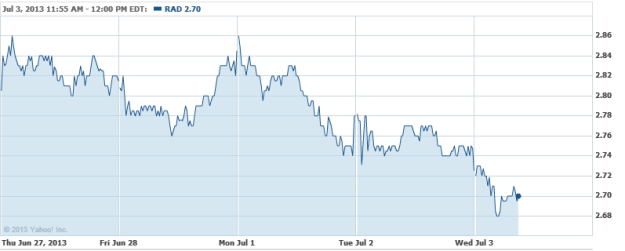 Oracle Corp. (NASDAQ:ORCL): Current price $30.51
For the second time in under a week, Oracle is attracting a bullish combination trade. Just before Tuesday's close, a trader purchased 5,250 August 34 calls for 4 cents and, at the same time, sold 5,250 August 25 puts for 4 cents, according to optionMONSTER's tracking systems. That volume was far above the previous open interest in each strike, indicating new positioning. The trade was similar to one that opened last Thursday, when 5,000 August 31 calls were bought and the same number of August 29 puts sold.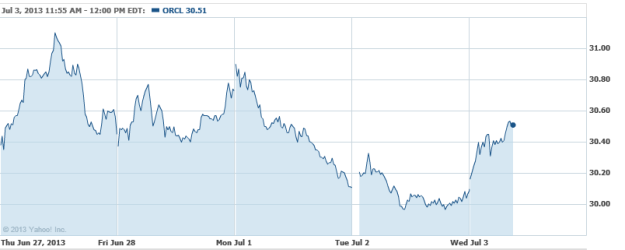 Mead Johnson Nutrition Co. (NYSE:MJN): Current price $67.14
On Tuesday, Mead Johnson was one of the big losers on the S&P 500, following reports that China is investigating it and a number of its rivals in the baby formula market for possible price-fixing violations. Shares were down more that 9 percent late morning on the short trading day, making Mead Johnson the hardest hit of any of the firms named in the inquiry. Through a press release, Mead Johnson said, "The company is fully cooperating with the recently reported Chinese government antitrust review of resale prices in the infant formula market and will provide information in response to inquiries received from government officials."