Rite Aid Pops on Same Store Numbers and 2 Other Hot Stocks to Watch
Rite Aid Corp. (NYSE:RAD): Current price $5.21
For the four weeks that ended September 28, same store sales at Rite Aid rose by 1.9 percent year-over-year. Front-end same store sales for the month decreased 0.5 by percent, but pharmacy same store sales, including a roughly 100 basis points negative impact from new generic introductions, grew 3.1 percent, while prescription count at comparable stores increased by 0.9 percent over the period in 2012. Total drugstore sales for the four-week period grew by 1.9 percent to $1.935 billion, versus $1.899 billion year-over-year. Prescription sales comprised 68.7 percent of drugstore sales and third party prescription sales were 97.1 percent of pharmacy sales. Shares are up by about 4.5 percent Thursday in heavy trading.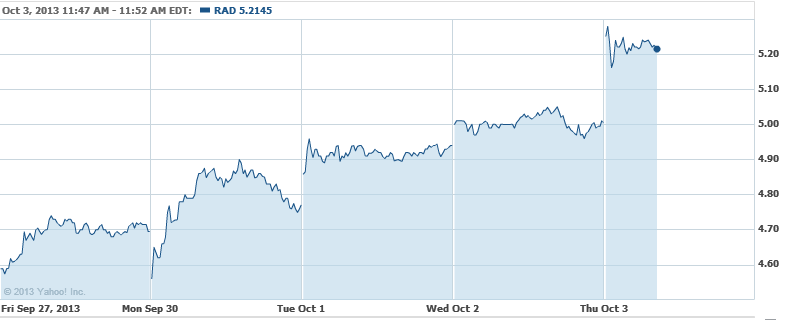 Ford Motor Co. (NYSE:F): Current price $16.86
In an error, Goldman Sachs Group added around$1.5 million of interest costs to a Ford bond sale last week by using the wrong Treasury note as a benchmark for the security, according to two knowledgeable sources. To make it up to the automaker, Ford was then charged a lower underwriting fee for the offering of $1 billion of five-year, 2.875-percent notes from its finance division, said one of the people. Regulatory filings indicate that the automaker paid 0.1 percentage point less in fees than in two previous sales of similar-maturity debt.

Bank of America Corp. (NYSE:BAC): Current price $13.86
Now it's the mortgage meltdown. Some recent analyst reports say that Bank of America is one of the better-qualified banks to withstand what might be a difficult third quarter for bank earnings. Analyst Christopher Mutascio at Keefe Bruyette & Woods contends that while a slowdown in refinancing activity should lead to a sharp drop in mortgage production revenue for most all domestic banks, Bank of America is in a good position to outweigh the negative trend.
In a report published Wednesday, Mutascio wrote that, "We believe BAC may have more levers to pull (lower expenses and greater reserve releases) to offset weak trends in fee income (mortgage and trading) than most banks heading into third-quarter earnings season."

Don't Miss: Top 10 States With Skyrocketing Home Prices.