Royal Caribbean Cruises Earnings: Shareholders Taking Profits
Royal Caribbean Cruises Ltd. (NYSE:RCL) reported net income above Wall Street's expectations for the first quarter. Royal Caribbean Cruises Ltd. operates in cruise vacation industry. It owns five cruise brands, Royal Caribbean International, Celebrity Cruises, Pullmantur, Azamara Club Cruises, and CDF Croisieres de France.
Don't Miss: Wall St. Cheat Sheet's newest Feature Trades of the Month!
Royal Caribbean Cruises Earnings Cheat Sheet for the First Quarter
Results: Net income for Royal Caribbean Cruises Ltd. rose to $91.6 million (42 cents/share) vs. $87.4 million (40 cents/share) in the same quarter a year earlier. A rise of 4.7% from the year earlier quarter.
Revenue: Rose 12.5% to $1.67 billion YoY.
Actual vs. Wall St. Expectations: RCL beat the mean analyst estimate of 13 cents/share. Estimates ranged from 9 cents per share to 15 cents per share.
Quoting Management: "The year started off with a roar — strong bookings, low costs and solid profits — and in the first quarter every one of our brands exceeded its forecast," said Richard D. Fain, chairman and chief executive officer. Fain added, "Unfortunately, the events in Northern Africa and Japan have turned what was shaping up as a spectacular year into merely a very good one. Nonetheless, other than adjustments for fuel pricing, our earnings guidance for the year is essentially intact despite these dramatic geopolitical events. The demand for the majority of our products has remained quite strong and even the impacted itineraries have begun to improve."
Key Stats:
The company has enjoyed double-digit year-over-year revenue growth for the past five quarters. Over that span, the company has averaged growth of 14.1%, with the biggest boost coming in the second quarter of the last fiscal year when revenue rose 18.7% from the year earlier quarter.
Competitors to Watch: Carnival Corporation (NYSE:CCL), Wyndham Worldwide Corp. (NYSE:WYN), Carnival plc (NYSE:CUK), Ambassadors Intl., Inc. (NASDAQ:AMIE), I Viaggi del Ventaglio SpA (VVE), ORFEY KLUB Wellness AD Plovdiv (OWJ), Tallink Grupp A.S. (TAL1T), Real Turismo SA de CV (REALTURA), and Lecebne lazne Jachymov a.s. (BAALAZJA).
Today's Performance: Shares of RCL are trading at $39.67 as of April 28, 2011 at 2:49 PM ET, down 0.1% from the previous close.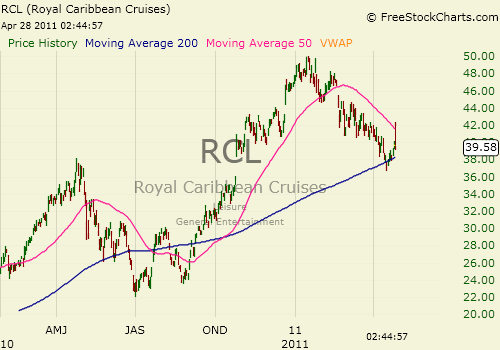 Don't Miss Wall St. Cheat Sheet's newest Feature Trades of the Month!