Rude Awakening: FAA Will Screen Overweight Pilots for Sleep Apnea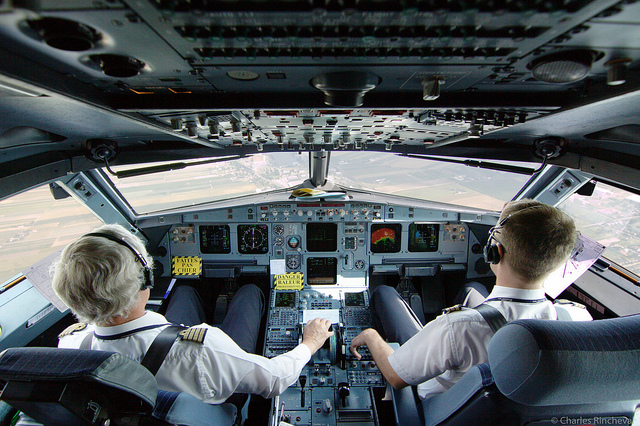 Pilots, buckle your seat belts if you have a body mass index of 40 or higher, because you will soon be subject to sleep apnea tests as required by the Federal Aviation Administration. According to Bloomberg Businessweek, the FAA is requiring that overweight pilots and air traffic controllers undergo special screenings to test for obstructive sleep apnea, a type of sleeping disorder that is a leading cause of excessive daytime sleepiness and that can put a person at high risk for falling asleep without warning.
Though the condition isn't only found in overweight people, FAA medical officials maintain that they are more prone to it, and that's why the agency feels the need to regularly screen those individuals who are especially at risk. According to Dr. Fred Tilton, the Federal Air Surgeon, pilots with a BMI of 40 or higher will have to be evaluated by a physician who is a board-certified sleep specialist, and those who suffer from sleep apnea will have to be treated and cleared before they are allowed to fly.
It's not yet clear when the screenings will begin. According to Bloomberg Businessweek, the FAA said, "We have purposely moved slowly because we wanted to give everyone an opportunity to learn about some of the issues before we added major changes to the medical certification process," but it has been confirmed that pilots will be the first to be tested for the disorder, with air traffic controllers to follow.
Once that is complete, the program will be expanded to those with a BMI as low as 30, about 5 points higher than the recommended number. A BMI of 30 or more is considered obese.
The new test requirements come after several high-profile incidents involving sleeping or fatigued pilots and air traffic controllers have rocked the airline industry. The administration recognizes that the screening may be flagged as discriminatory, but according to CNN, Tilton maintained in a statement that sleep apnea is "almost universal" in people with a BMI of 40 or greater and a neck circumference of 17 inches. The National Institutes of Health say that a BMI of 40 equates to a 5-foot, 11-inch man weighing 287 pounds.
The Air Line Pilots Association, the nation's largest association of commercial pilots, is still reviewing the FAA proposal, but a group representing private pilots has already asked the FAA to suspend implementation of the policy until there is clear evidence supporting the screening of general aviation pilots.
CNN reports that the order is expected to affect about 125,000 of the nation's 600,000 commercial and private pilots and an unknown number of the nation's 14,500 controllers. In a statement made Wednesday, the FAA said the new policy addresses a National Transportation Safety Board recommendation and is "designed to help airmen and aviation safety by improving the diagnosis of unrecognized or untreated obstructive sleep apnea."
Don't Miss: 4 Things to Do If Your 401k Fees are Out of Control.