Rue21 Board Under Inquiry and 2 More Heavily Traded Stocks to Follow
rue21 (NASDAQ:RUE): Current price $41.91
Glancy Binkow & Goldberg looking into potential claims against the board of rue21, connected with the proposed purchase of the firm by Apax Partners, in a  transaction valued at roughly $1.1 billion, or $42 per share. This inquiry concerns whether the board of rue21 breached their fiduciary duties to stockholders by not adequately shopping rue21 before agreeing to the proposed transaction, and also whether the firm has disclosed all material information to shareholders regarding the transaction. Shares of rue21 have jumped from $19.95 on January 6,2012 to $34.28 on May 7 of this year.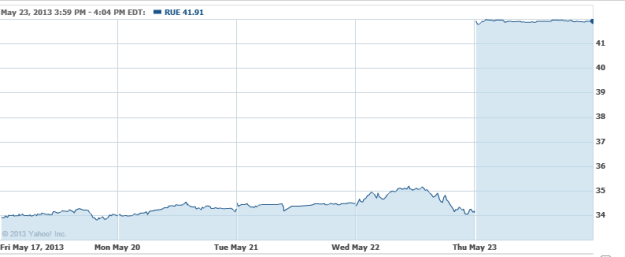 Yahoo! (NASDAQ:YHOO): Current price $26.01
Kara Swisher at AllThingsD says that an internal memo and his LinkedIn profile indicate that Yahoo has hired the longtime McKinsey executive John DeVine as senior vice president of global operations. DeVine has worked in the marketing and sales practice at McKinsey since 1999 and has been an advocate there of "how companies need to embrace the customer experience." At his new position at Yahoo, he will report to Chief Operations Officer Henrique De Castro and will be running a wide swath of operations, like advertising solutions.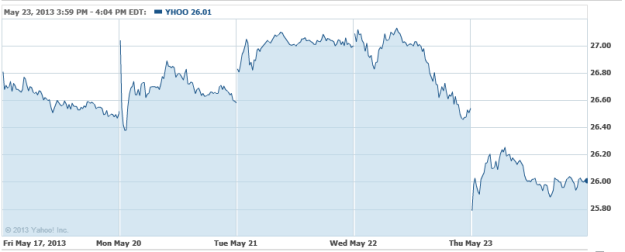 Tesla Motors (NASDAQ:TSLA): Current price $92.90
As promised, Tesla has paid off the $465 million Energy Department loan quite early. The electric carmaker received the loan in Jan of 2010 and signed on a 10-year repayment program. Tesla's financial situation improved so quickly that the firm repaid the full outstanding amount of the loan in the second installment itself. In December, Tesla made its first loan repayment of almost $13 million, and on Wednesday, it paid off the remaining $451.8 million with the near-$1 billion proceeds from the common stock and convertible senior note offering made last week.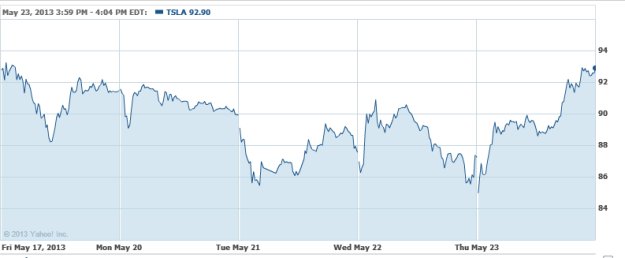 Investing Insights: Is BP a Risky Investment?