Russian Coal Producer Hires JPMorgan to Sell US Unit and 2 Other Dow Movers to Watch
JPMorgan Chase & Co. (NYSE:JPM): Current price $52.75
Being pressed to reduce debts of over $9 billion, the Russian coal producer Mechel has hired the investment bank JPMorgan to divest its American arm, Mechel Bluestone, according to inside sources. Mechel purchased Bluestone in 2009 from private owners at a price of $425 million plus shares, a transaction valued at that time at roughly $800 million, including $135 million of Bluestone debt. However, observers think that a sale of the U.S. asset may not be easy at a time when the top mining companies are putting a large number of assets on the block, so as to slim down and to drive profitability.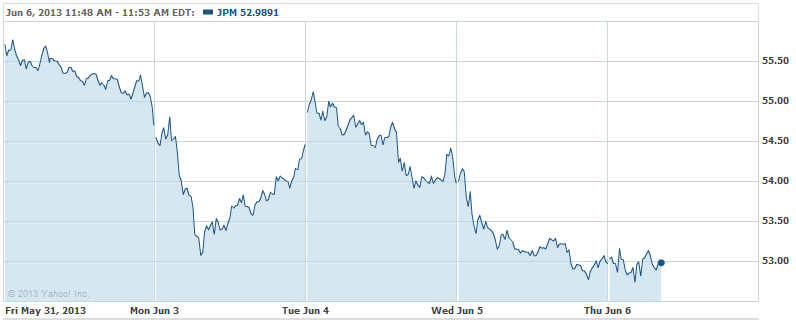 General Electric Company (NYSE:GE): Current price $23.24
GE Corporate Diversity Council's GE Foundation has announced $500,000 in grants awarded to two community health care centers in Minneapolis. The fund is part of Developing Health plan, a partnership between GE Corporate Citizenship and the GE Corporate Diversity Council with a primary focus being the upgrade of the medical infrastructure, and to provide better patient care to underserved communities worldwide. Each center will receive grants of as much as $250,000 over a period of two years. Since its inception in 2009, GE's Developing Health program has supported primary care with investments totaling $38.9 million for 108 health centers.

Johnson & Johnson (NYSE:JNJ): Current price $86.27
J&J and Bayer have failed to gain approval in the United States to expand the use of the blood thinner Xarelto to prevent blood clots from developing on stents employed in some heart-disease patients. The FDA has requested additional information regarding Xarelto's use in lowering the risk of the dangerous clots in acute coronary syndrome patients. However, in a Friday statement, Christopher Nessel, the cardiovascular franchise medical leader at J&J's Janssen division, said that the company is confident in clinical trial results and is continuing talks with the FDA. Xarelto stands as the most-prescribed novel oral anticoagulant in the U.S., and was approved in July 2011 to prevent blood clots in patients undergoing knee and hip surgeries, and its use has since been broadened to patients having irregular heartbeats and deadly leg and lung blood clots.

Don't Miss: BlackBerry's Quarterly Loss Sends Investors Running.