Ryder System Fourth Quarter Earnings Sneak Peek
S&P 500 (NYSE:SPY) component Ryder System, Inc. (NYSE:R) will unveil its latest earnings tomorrow, Thursday, January 31, 2013. Ryder System is a global provider of transportation and supply chain management solutions.
Ryder System, Inc. Earnings Preview Cheat Sheet
Wall St. Earnings Expectations: The average estimate of analysts is for profit of $1.10 per share, a rise of 13.4% from the company's actual earnings for the same quarter a year ago. During the past three months, the average estimate has moved up from $1.09. Between one and three months ago, the average estimate moved up. It has been unchanged at $1.10 during the last month. For the year, analysts are projecting net income of $3.96 per share, a rise of 12.2% from last year.
Past Earnings Performance: The company's quarterly results have come in above estimates for the last three quarters. Last quarter, the company booked profit of $1.28 per share versus a mean estimate of net income of $1.18 per share.
Start 2013 better than ever by saving time and making money with your Limited Time Offer for our highly-acclaimed Stock Picker Newsletter. Click here for our fresh Feature Stock Pick now!
A Look Back: In the third quarter, profit rose 32.8% to $75.1 million ($1.47 a share) from $56.5 million ($1.10 a share) the year earlier, exceeding analyst expectations. Revenue rose 0.2% to $1.57 billion from $1.57 billion.
Here's how Ryder System traded following its last earnings report 3 months ago and leading up to its upcoming earnings report this week: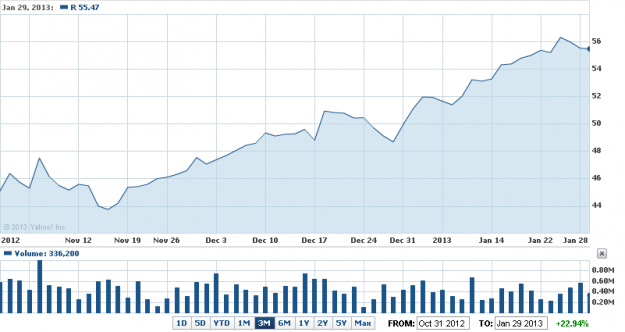 Analyst Ratings: With 11 analysts rating the stock a buy, none rating it a sell and four rating the stock a hold, there are indications of a bullish stance by analysts.
Wall St. Revenue Expectations: On average, analysts predict $1.57 billion in revenue this quarter, a rise of 1.9% from the year-ago quarter. Analysts are forecasting total revenue of $6.24 billion for the year, a rise of 3.1% from last year's revenue of $6.05 billion.
Key Stats:
After experiencing income increases the last three quarters, the company is hoping to keep the good news coming with this earnings announcement. Net income rose 36.6% in the first quarter and 16.7% in the second quarter before increasing again in the third quarter.
On the top line, the company is looking to build on four-straight revenue increases heading into this earnings announcement. Revenue rose 17.3% in the fourth quarter of the last fiscal year, 7.8% in the first quarter and 3.3% in the second quarter before increasing again in the third quarter.
Balance Sheet Analysis: The company's current ratio of assets to liabilities came in at 0.81 last quarter. The current ratio is an indication of a firm's liquidity and ability to meet creditor demands and generally, a ratio less than one could indicate a company may have difficulty meeting current obligations.
Stocks with improving earnings metrics are worthy of your extra attention. In fact, "E = Earnings Are Increasing Quarter-Over-Quarter" is a core component of our CHEAT SHEET investing framework for this very reason. Don't waste another minute — click here and get our CHEAT SHEET stock picks now.
(Company fundamentals by Xignite Financials. Earnings estimates provided by Zacks)