Safeway Earnings: Net Income Wasn't What Wall Street Wanted
S&P 500 (NYSE:SPY) component Safeway Inc. (NYSE:SWY) reported a lower net income in first quarter, missing analysts' estimates. Safeway Inc. is a retail supermarket chain in North America. As a food and drug retailer, the company, with its subsidiaries, operates stores that offer a range of grocery products, general merchandise and specialty departments like pharmacies and coffee shops. It also owns and operates distribution, manufacturing, and food processing facilities.
Don't Miss: Wall St. Cheat Sheet's newest Feature Trades of the Month!
Safeway Earnings Cheat Sheet for the First Quarter
Results: Net income for Safeway Inc. fell to $25.1 million (7 cents/share) vs. $96 million (25 cents/share) a year earlier. A decline of 73.9% from the year earlier quarter.
Revenue: Rose 4.8% to $9.77 billion YoY.
Actual vs. Wall St. Expectations: Excluding special charges, SWY had earnings of 29 cents per share, which beat the mean analyst estimate of 28 cents/share. Estimates ranged from 24 cents per share to 31 cents per share.
Quoting Management: "Our first quarter results are in line with our expectations, and we are pleased with our improving sales trends," said Steve Burd, Chairman, President and CEO. "Identical-store sales, excluding fuel, improved for the fifth consecutive quarter and are now positive. We are successfully passing cost inflation along at retail, while making appropriate price adjustments to remain competitive."
Key Stats:
Last quarter marked the fifth straight quarter that the company saw shrinking gross margins as gross margin fell 0.9 percentage point to 27.5% from the year earlier quarter. Over that time, margins have contracted on average 0.6 percentage point per quarter on a year-over-year basis.
Over the last five quarters, revenue has increased 1.3% on average year over year. The biggest increase came in the most recent quarter, when revenue rose 4.8% from the year earlier quarter.
Competitors to Watch: The Kroger Co. (NYSE:KR), Whole Foods Market, Inc. (NASDAQ:WFMI), SUPERVALU INC. (NYSE:SVU), Winn-Dixie Stores, Inc. (NASDAQ:WINN), The Fresh Market Inc (NASDAQ:TFM), Arden Group, Inc. (NASDAQ:ARDNA), The Great Atlantic & Pacific Tea Co. (GAPTQ), Ingles Markets, Inc. (NASDAQ:IMKTA), Ruddick Corporation (NYSE:RDK), and Weis Markets, Inc. (NYSE:WMK).
Today's Performance: Shares of SWY are trading at $24.96 as of April 28, 2011 at 10:58 AM ET, down 1.27% from the previous closing price of $25.28.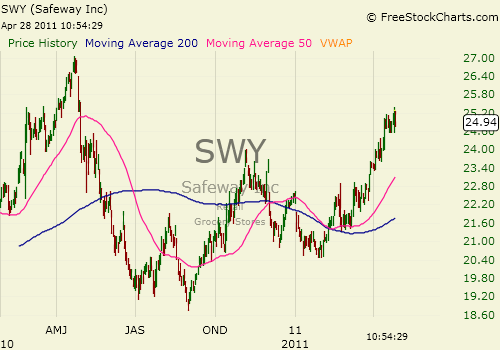 Don't Miss Wall St. Cheat Sheet's newest Feature Trades of the Month!