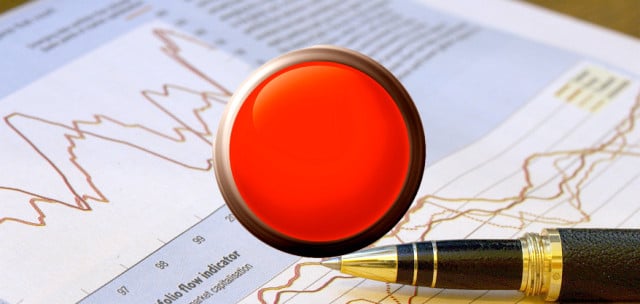 U.S. stock futures remained steady this morning following the huge gains made by the Dow and the S&P 500 on Thursday. Lawmakers seem to be getting closer to reaching an agreement on the budget that will stop the U.S. from defaulting on its debt. The Congressional Budget Office has warned that the U.S. will exceed its borrowing authority by October 17 and default on its debt by the end of the month if lawmakers don't reach an agreement.
Futures at 8:30 a.m.: DJIA: 0.00 S&P 500: -0.06% NASDAQ: +0.03%
Here's your cheat sheet to what's buzzing this morning:
Safeway (NYSE:SWY) shares are up in pre-market trading despite the fact that the grocery store chain reported a 58 percent drop in profit for the third quarter. The reason for the Safeway optimism is that the company announced it's leaving Chicago by the beginning of next year. The 72 Domenick's supermarkets it owns in the city will give Safeway a $400 to $450 million cash tax benefit. Revenue grew 1.1 percent to $8.6 billion, but earnings fell short of estimates at 10 cents a share.
Google (NASDAQ:GOOG) funneled 8.8 billion euros ($12 billion) into Bermuda last year to avoid paying U.S. taxes. Google already keeps the cash from most of its international sales in the low-tax Ireland, but in Bermuda the tax rate is just 5 percent, half of what it is in Ireland. Google has been criticized for its tax practices in the past. According to a report from the Financial Times, which saw the latest filings of one of Google's Dutch subsidiaries, Google's royalty payments to Bermuda have doubled in the last three years.
United Parcel Service's (NYSE:UPS) labor union woes still haven't been resolved, according to the Wall Street Journal, and the shipping company is under pressure as the busy holiday season approaches. Teamsters-represented employees rejected two out of seven riders to their contract. The contract supplements that were rejected have to do with overtime pay, wages for part-time employees, and health-care. The Journal said that UPS still has "a lot more work to do" before each rider on the contract that was approved in June is negotiated and UPS can move forward without the danger of potential labor disputes.
Alibaba will reportedly go forward with its very large and highly anticipated IPO sometime in 2014, people familiar with the matter told Bloomberg. The news comes after the Chinese e-commerce giant's CEO said the company would not list on the Hong Kong exchange due to its unique partnership structure. Bloomberg pointed out that Alibaba will likely watch how Twitter's IPO fares before deciding on an exchange and going public itself.
Follow Jacqueline on Twitter @Jacqui_WSCS
Don't Miss: Jeff Bezos's 7 Secrets to Running the Internet Retail World.